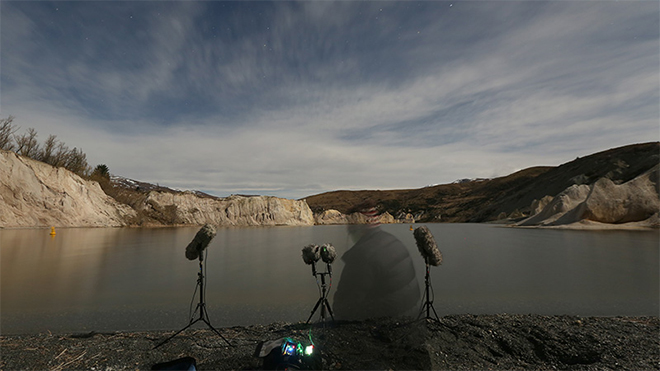 It's the 3rd birthday of one of the most original sound libraries all over the web and we celebrate it with an inspiring conversation with its creator: Tim Prebble, Sound lover from New Zealand to the world.
From today Tim launches a sale for HISS and a ROAR, offering a massive 50% discount for first week and 33% for second week. Use the discount code: MEOW. Good luck!
Hi Tim, thanks for taking the time to talk to me. It's the 2nd time we meet here: you were our first interview in english. It's the birthday of HISS and a ROAR, I guess you have something to say about this amazing project.
Thanks Gianpaolo, it feels like only yesterday but three years has passed since then and over that period I've recorded and released 16 sound libraries and 6 ambience libraries for HISS and a ROAR  (and have another 3 libraries recorded and waiting for time to edit!). I have also completed sound design for five feature films (including field trips to Samoa, Papua New Guinea and Japan) and composed the score for two feature films. It really feels like completing a long term cycle to be working on music seriously again, as I put music on hold for five years when I first started working as a trainee sound effects editor back in the early 1990s. So to now be combining all of my skills feels like an important personal evolution.
According to my opinion, you are the model of the perfect modern Sound professional: you have a blog (and you write your opinions and experience), you create sound libraries in a regular way and you sell them on the web, you create video teasers to promote your work. Can you give some advice to young people getting into the lovely world of Sound?
Thanks for the kind words, but it is all work in progress and the more I learn and explore, the more I realise there is so much more to learn and explore! Generationally, as with my nieces and nephews, it is fascinating to see the new avenues of expression that are developing, so my best advice to young people is to experiment! While history can provide valuable guidelines and traditions, it is very, very important to explore and experiment, so as to find and develop your own personal voice and aesthetics. When I see or hear people creating very derivative work (are we done with Transformers yet!!) it says to me only one thing: the person is focusing on imitation rather than developing their own ideas and creativity. There is a great saying that I love by the Japanese haiku poet Matsuo Basho:
Do not seek to follow in the footsteps of the men of old; seek what they sought.
What are the most interesting fields of work now in Sound? Do you feel some particular trend moving up which is worth of monitoring? Where do you perceive innovation now or, more, which field of Sound requires an urgent need of innovation?
I think it is very difficult to generalise, but film as a creative medium is very dear to my heart. And despite all the technological changes that have occurred during my career, the core values of great film making still hold true. Great writing, acting, direction and execution which combine to allow an audience to emotionally engage is of the essence, and as we all know, sound and music have a vital role to play. But in my opinion it is the ability to convey ideas and emotions that is the most important, to transcend technique and methodologies. But supposed innovation can at times be the antithesis to this concept, for example I am yet to see a 3D film that moves me, emotionally, and while Dolby Atmos is a fascinating concept, will it ever move beyond Hollywood blockbuster movies?
In complete contrast I find sound art to be deeply a fascinating art form and given how consumable the internet is making mediums as music and video, I believe it is deeply valuable that sound art requires your physical presence – the experience can't be downloaded. Visiting the exhibition Art & Music – Search for New Synaesthesia in Tokyo last year was a deeply profound experience. Curated by Ryuichi Sakamoto it featured artists from all over the planet, and it left me deeply inspired!
Tell us something about Tim 'Sound lover' in New Zealand: what is your ordinary day of work? Do you use a regular process to work at projects, some kind of defined workflow to be more effective while designing and building sounds and music with clients?
It totally depends on the current projects – nowadays I only spend 4-6 months of each year working on films, whereas film used to totally dominate my years work. While films have clearly defined schedules and deadlines, I thoroughly enjoy the freedom associated with more flexible time frames. I also have to say I am enjoying working outside a lot more – field recording, shooting, travelling etc… During one film project a few years ago I had a horrible realisation that I was basically hand cuffed to my desk – my work required that I spend most of my waking hours indoors, in front a computer. I am very happy to have slowly and wilfully changed that, so my time is more balanced and I will now only commit to longer term projects where I feel I have something very specific and unique to contribute – if the project could be done by anyone, then somone else should do it, not me.
What are you going to do now? I guess you are involved in many sonic adventures, which projects are you working now?
Well I've just arrived in Japan and on Monday start an Artists residency on Shodoshima, an island in the Seto Inland Sea of Japan. I'll be based there for 6 weeks while I develop, shoot and post an existential short sonic film. Then once I return to New Zealand at the end of October I move up north for two months to Little Huia (a rural area in the Waitakere Ranges near Auckland) to do a second Artists Residency. My project there will involve spending a lot of time field recording individual species of native birds, and then doing pitch analysis of bird song and using them as the starting point for composing a set of electroacoustic Bird Song Preludes. I am very excited to explore the unique tonality of some of New Zealands bird life, one bird in particular, the Tui has a lot in common with the ARP2600 synthesiser! The Tui has two vocieboxes so it even has dual VCOs in common!
In January 2014 I start work on a beautiful documentary feature film being made by ethnographic film maker Paul Wolfram. The film is called VOICES OF THE LAND and is about Dr Richard Nunns, a traditional Maori instrumentalist. They have been filming him performing literally embedded in the landscape, by seeking out interesting naturally ocurring acoustic locations.
Throughout all of that I continue to record and develop new sound libraries for HISS and a ROAR, and have a couple of parallel, related projects in development. But in terms of other film projects I really have absolutely no idea! An important part of these Artists Residencies is to explore my own creative expression in broader realms, and to be creating my own projects. So I am completely open minded and intrigued as to what influence they will have on my future direction.
Ok Tim, thank you very much for your time and answers. I asked you something similar 3 years ago in the 1st interview, but this is our tradition: can you give us 3 names for your daily inspiration (website, musician, artist, Sound lover, whatever).
Really last… when will you come to visit us in Italy? 🙂
I dream of the day! It is years since I spent time in Europe (attending the Berlinale in 2007 would be my last time) as all my recent travel has been in the Pacific and South East Asia. So maybe that is in my future for later in 2014 or 2015. It is hard travel, it took 28 hours to reach Berlin from New Zealand, so maybe I will have to make it a longer trip and travel slowly! I look forward to it. Thanks Gianpaolo!
Gianpaolo D'Amico is an independent creative technologist for digital media. He is the founder of sounDesign and a music obsessed since he was 0 years old.
Latest posts by Gianpaolo D'Amico (see all)