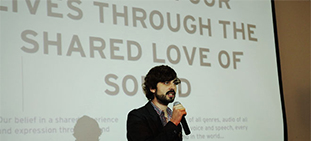 This is the first of a 2 parts report about what happened during the Audio Branding Congress 2013, which was held on 27th of November at the University of High Economics of Moscow, Russia.
I attended the congress to present my article Audio Branding for Fashion: An Experiment of Education on Sound for a New Generation of Professionals (if you want to know more read Louis Vuitton and Moscow's Red square: Fashion and Audio branding in Russia) during the poster session dedicated to some of the works accepted for the call for papers 2013.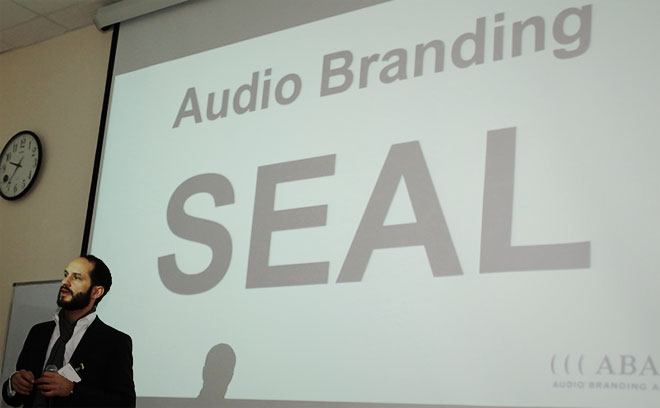 Prelude speech of this edition is given by Audio Branding Academy's member Cornelius Ringe, who starts talking about an hot topic for audio branding: ROI. He asks universities and professionals working in the market of modern communication to cooperate together for collecting data with the aim to measure efficiency and benefits of audio branding activities.
Another buzzword in Cornelius' speech is seal: a way to highlight how much today we need to create a seal of quality to sell agencies a framework and show results to clients. ABA proposes itself as a platform to achieve these goals and for this reason it presents a new project: Audiologo Database, an online tool to make research on audio identities, in which data are organized and presented under diverse market perspectives and acoustic properties. I had a look to the preview of the website during the congress and I have to say it's quite interesting. My advice is to follow that link…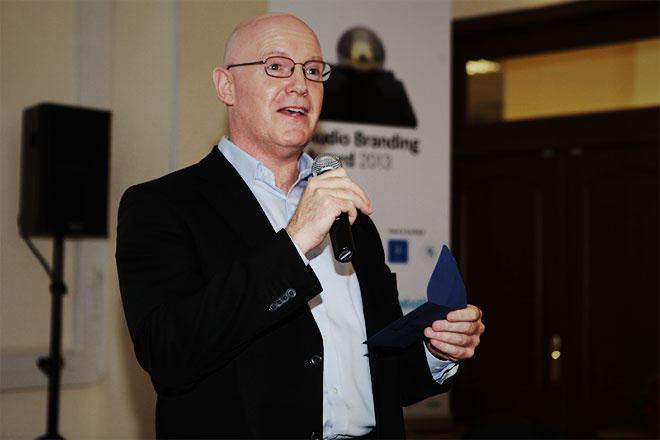 Julian Treasure is also for this year the host of the congress, responsible for introducing themes and moderating all the talks and speakers. Treasure points to different important topics, but in particular he would like to extend the concept of audio branding to Sound and then he launches the idea of organizing a Sound summit, where different personalities of our world have the chance to meet and discuss together.
A final word is for the most beautiful sound in the world, a competition on the web he launched in partnership with Beautiful Now.
First talk of the day is Before Pushing 'Play': Audio Branding in Russia by Vladimir Kozlov (DigiSky), Elena Lebedeva (O'STIN), a deep overview of the state of audio branding in Russia (see photo). Vladimir starts his talk showing two examples of audio logos (1985 -analogue and 2000-digital) and asking the audience which is the best? Are we sure is the 20th century digital one?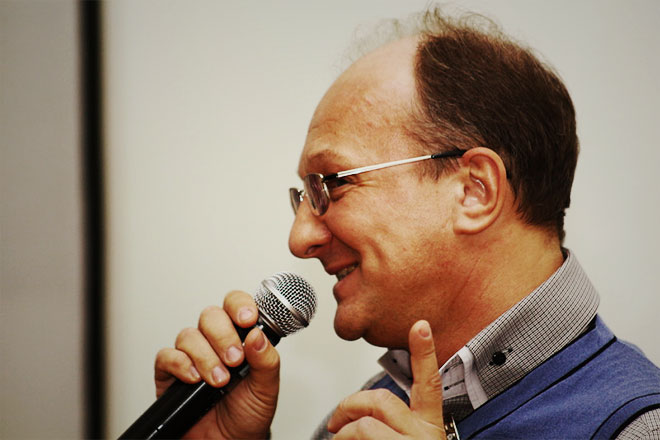 According to Vladimir, Russia has a unique sound identity and represents a potentially growing market, but for many clients the audio branding process is the main responsible for slowing down the work during a project and then its not considered as a strategic assets.
Second part of the talk is conducted by Elena Lebedeva, who tells her experience in audio branding for retail spaces in fashion. To conduct a brief of audio branding with russian customers is very complicated not only to explain, but also because the added value on the budget is not always accepted. AÂ further problem is surely about licenses: clients don't want to pay additional fees for authors and their music and, more than else, this is a cultural issue.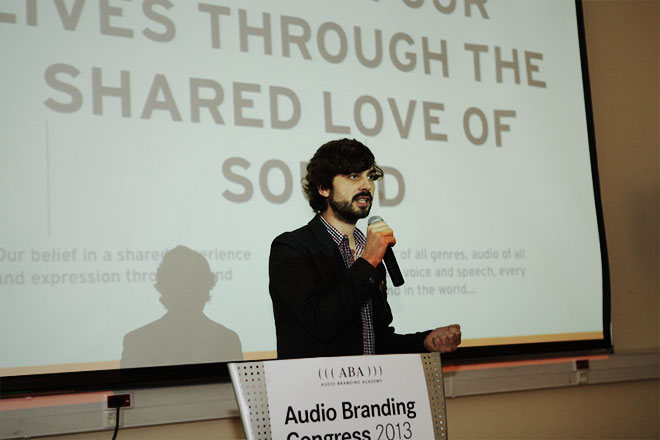 From Moscow we move to Berlin, with SoundCloud talk, surely one of the most waited by the audience. Mark Dewings, brand manager of the most popular german social network, for first describes the platform, the functions, the users and the impressive amount of data created daily by people in love with Sound all around the world.
SoundCloud ears are obviously directed to mobile world, as some data from Nielsen and some market information by NetFlix and YouTube users show clearly. People will create more and more contents via the smartphones, so the Sound opportunity is there. The new motto from Berlin will be more and more this one: Sound first.
The ambition of SoundCloud is to become the social network
where brands promote themselves via the use of Sound:Â because brands are people too.
After this Mark shows some interesting projects which use SoundCloud API, such as: Story wheel app and The Sound of Coffee.
But do you want to know something really really weird? SoundCloud has not an audio logo, because maybe they are more focused on other brands on the platform than theirs. I guess after the talk Mark received many ideas from different people and surely also mine :-). Let's see what will happen in the next months.
Next talk is Audio Branding and Its Legal Use by Vadim Vechkasov (VOIS Russia), dedicated lo legal notices by russian rules on music and license. It was a littl bit technical to me, so I remind to the paper, when the audio branding book will be released.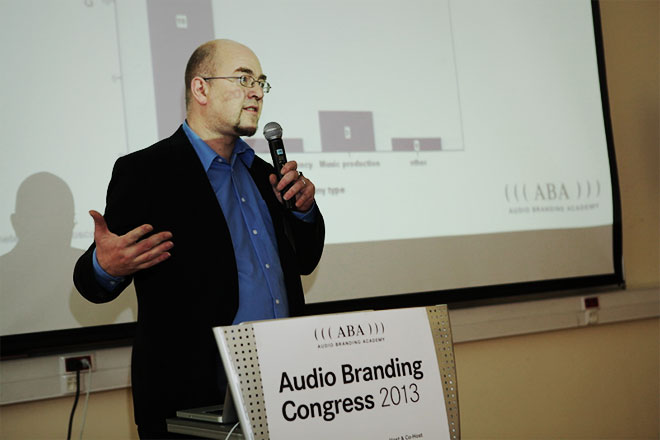 After the coffe break it's the time for the Audio Branding Barometer 2013, presented by Dr. Klaus Frieler, where the survey conducted on many agencies in the last year are finally presented. A small intervention in video format by Karsten Kilian and his students anticipates a pilot study on 30 countries and 300 top brands which will be published soon. Again I don't want to report too much because I guess it's better to read the complete research when it will be published in the upcoming book.
Acoustic Branding on the Internet: An Empirical Exploration for Dräger by Patrick Langeslag (audio consulting group) reports a work of research about the use of music and sound on websites.
The agency was contacted by a client who wanted to investigate how much the music on their website was really important and effective. The brand was Dräger, for which the agency made a test study on the hospital website, with with different test groups of people.
Some interesting results of the work report that users use computer with speakers switched on, but they favorite an opt-in solution for audio part of the website, that is they decide to switch on the volume when they need/want and prefer a YouTube like navigation button, obviously because they are used to the YouTube video player.
After the lunch break it is the time for the long session dedicated to audio branding case studies. But this will be the main topic of the next post.
Gianpaolo D'Amico is an independent creative technologist for digital media. He is the founder of sounDesign and a music obsessed since he was 0 years old.
Latest posts by Gianpaolo D'Amico (see all)