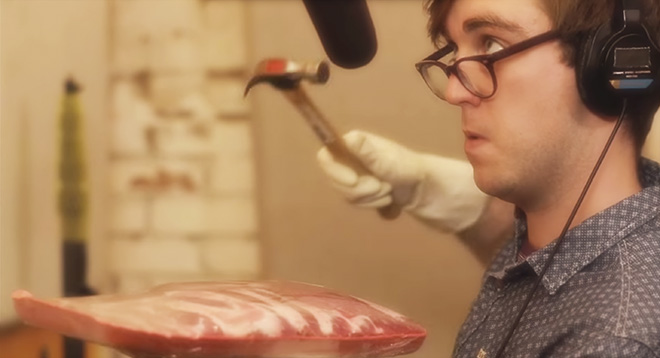 Are sounds of porn movies real? All those noises, moans, squeezes and so on. Did adult industry never feel the need to hire a foley artist? Labor of Love is a short documentary depicting the portrait of the adult film foley artist Grant Meyers.
The war for the social media sharing has started, but if you pay attention you can see this video is a fake.
Directed by Jack Pearce and interpreted by an amazing Will Stephen, this video tells the imaginary story of a sound pro in love with his job, which actually consists of handling pieces of deli meat, moving his mouths in a weird way, recording outdoor activities of people (anytime, anywhere, anyhow), not for the next cool sci-fi movie series, but for a normal porn film.
Some of the quotes listened in the video are irresistible: "I am the one doing the touching", "The sound is when the sexual activity happens" or
"You can close your eyes but you can't close your ears, they're always open". Can you ask for more?
Inspired by many films devoted to the power of Sound (first of all Sound by SoundCloud), Labor of loves makes us laugh but at the same time remembers us how much creative and unknown is the work of the foley artist. Low budget, high brain.
By the way whether we look to the past another short humorous video was dedicated to the same topic: The foley artist episode of Human Giant on MTV in 2008.
https://www.youtube.com/watch?v=rsPdLr5btow
So, is this all fake? Are we so sure? Are adult movies the last proof of reality in video production?
Watch the short documentary below and change your mind. This is called authentic porn movies overdubbing. Chapeau.
https://www.youtube.com/watch?v=fq0cgujx2Qk
Gianpaolo D'Amico is an independent creative technologist for digital media. He is the founder of sounDesign and a music obsessed since he was 0 years old.
Latest posts by Gianpaolo D'Amico (see all)