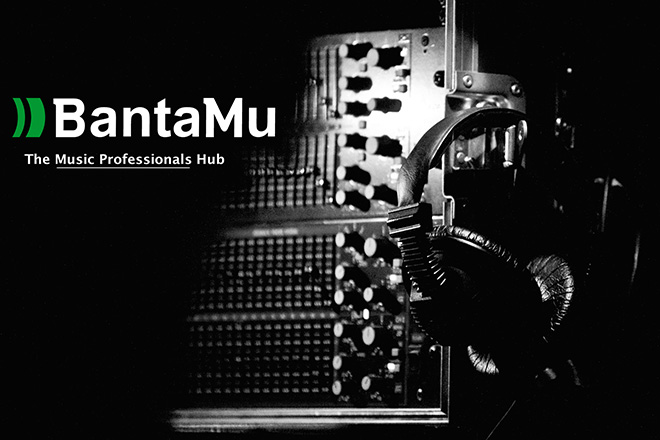 Interview with the founder of BantaMu, online network dedicated to professionals in the music industry.
Job opportunities provided by tools and platforms in digital channels are currently more numerous than ever. From Craiglist to Linkedin, from Indiegogo to Kickstarter: the building of a digital presence to connect industry, professionals and people has become the only way to see the birth of a working project.
Yet we want something exclusively built for whom is working in the field of Sound communication: from music industry, to audio engineering and, why not, audio branding.
A few platforms and networks are trying to mix the paradigms of crowdsourcing and social networks in order to build something really effective in this context. Indeed we believe a project called BantaMu has something more then other ones and that is why we had a very interesting Q&A session with its founder and CEO Giacomo Jack Garufi.
sounDesign: Hi Giacomo, nice to meet you in this digital place. Can you introduce yourself to our readers and let us know more about you and your work?
Giacomo Garufi: Nice to meet you too and thanks for having us here on SounDesign.
I'm an audio engineer and music producer from Italy. After my graduation in audio engineering at SAE (School of Audio Engineering) in New York, I decided to move back to Milano, where I've been recording, editing and mixing music with major and independent artists since 2009.
I was lucky enough to find a job immediately once I was back in Italy: I started my career as a resident live engineer in one of the most important venues of Italy, Alcatraz in Milan, and at the same time as assistant engineer at Massive Arts Studios, one of the most important recording studios in Italy.
After one year of hard work I became the resident sound engineer of Massive Arts where I worked for 5 years and where I was fortunate enough to record and mix international artists such as Black Eyed Peas, Skunk Anansie and The National.
Now I work as a freelance audio engineer and producer, but above all I am fully dedicated to an online network dedicated to professionals in the music industry named BantaMu of which I'm founder and CEO.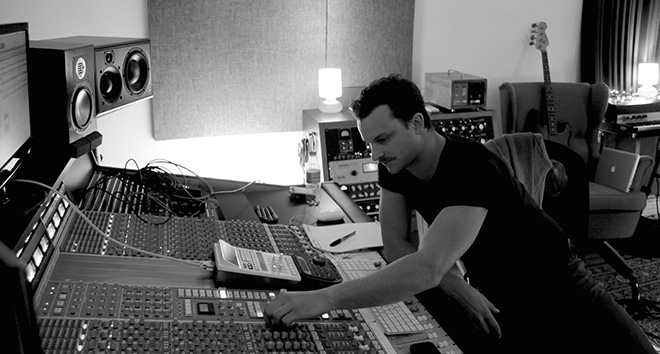 SD: You are the founder of BantaMu, a platform to promote and facilitate opportunities in the music industry. Can you tell us more about your project?
GG:Â Like all new ideas, BantaMu is born from the necessity to fill an unmet need.
In fact, I felt the need for an online network that would allow me to create a professional portfolio and that would facilitate the search for new collaborations and contacts in the music industry.
Like many of my colleagues I created several profiles on other portals, such as LinkedIn, but I noticed that they were not meeting my needs and certainly not helping me to find new collaborations. I then started to design, supported also by the observations of other colleagues, an online network aimed to all the professionals working in the music industry such as sound engineers, musicians, music video directors, photographers and artwork designers.
BantaMu membership is totally free and you can create your own professional portfolio filled with contact information, skills, equipment, external media and credits list of all the bands and artists you've been working with.
For the musician looking for a specific professional with whom to collaborate, whether in the studio to record their songs or to create the album artwork, it will be so much quicker and easier to find them with our search engine. We want to give most prominence especially to the aspect of the credits.
In fact, with the advent of digital music, the booklets in albums became obsolete and are no longer as straightforward for finding out who recorded, mixed, played, or created the artwork on a particular album.
It is very important in our view, to offer the opportunity to those who work in this field to show their contributions and credentials.
In the past Discogs and Albumcredits have tried to meet these needs, but with results in our opinion not practical and intuitive. BantaMu has now been very successful with more than 2,000 members in the first few months since its launch.
Among the many distinguished professionals registered on BantaMu there are, for example, Grammy Award winning producers and audio engineers Marc Urselli (Sting, Lou Reed, John Zorn…), Jeff Bova (Michael Jackson, Celine Dion, Backstreet Boys…), Tim Latham (A Tribe Called Quest, Black Eyed Peas, Britney Spears…), amazing musicians such as Cristiano Mozzati (drummer with Lacuna Coil) and Benjamin Gordelier (Paul Weller), but also internationally renowned photographers such as Guido Harari (Frank Zappa, Bob Dylan, Paul McCartney…).
We are also really happy that the aim of facilitating collaborations through our portal is working well. Indeed, we have already received many emails and messages from professionals who have found new jobs and projects thanks to BantaMu.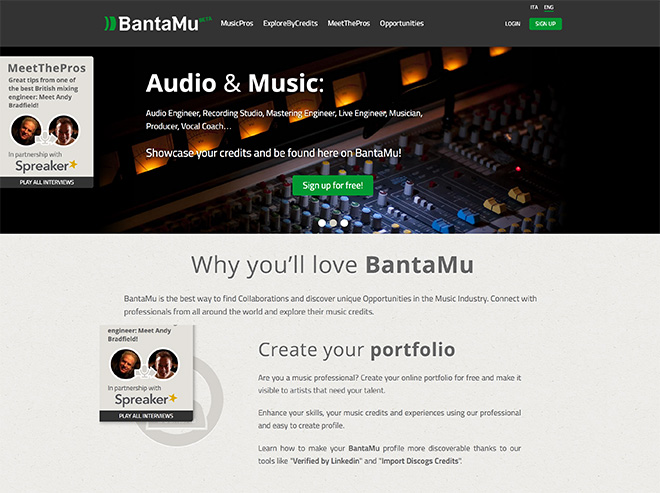 SD: There are some competitors in this field so what is the added value offered by BantaMu? What is your value proposition at the end?
GG:Â There are various portals that we can define as competitors and among them surely the largest and best known is Linkedin.
Our greatest strength and distinctive features compared to the other websites is the fact that we are able to aggregate all the different roles in the music business, from the mastering engineer to the recording studio, from professional musician to vocal coach, from director of music videos to the lighting technician,from music photographer to artwork designer, in short, we are a real 360 ° network exclusively devoted to the music industry.
What always happens to me, when I work as a sound engineer and producer with artists and independent bands, is to be asked for contacts with video directors, graphic designers, photographers or mastering engineers to choose at the moment when bands have finished an album in the recording studio. Today, whoever asks me for these professionals is directed to BantaMu!
The other uniqueness of BantaMu is definitely tied to the huge emphasis we give to our users' credits.
For this reason, we have a separate section called ExploreByCredits where anybody can search for professionals registered on BantaMu according to the artists with whom they collaborated.
To make a search even easier and faster, we have also introduced the so-called semantic search engine that enables all registered users to track their favorite artists from Facebook, Lastfm and Deezer and then discover the professionals registered with BantaMu that have actively worked with them.
In this way, with one click you can find the most suitable professionals according to your musical preference.
SD: I see that you are very active on social media channels. Is this a part of a content strategy?
GG: Definitely. We do not have a blog section on the site but we give great importance to communication and promotion through the various social networks, Facebook and Twitter above all. We can say that most of the users who signed up with BantaMu became aware of us thanks to our social pages and promotion carried out through these channels.
A few months after our launch, we signed two amazing partnerships; one with Musicraiser, a crowdfunding platform for music projects, and one with Spreaker, a social web radio with over 4 million users. With them we have created a webradio format named MeetThePros, where each month we interview a top professional registered on BantaMu.
These episodes are very successful thanks to their different interview format. In fact we do not only address the technical aspects but we are also interested in the history of their career and the various anecdotes related to the famous international artists they've been working with.
For example, this month we interviewed the Grammy nominated mixing engineer Andy Bradfield, who revealed some tips of the trade he uses during his sessions and how they relate to the incredible artists he worked with, such as The XX, Elbow, Pet Shop Boys and Bjork. You can listen to this interview and to all the other interviews directly on BantaMu or on our channel on Spreaker.
Further down the line we are planning to expand this project to video interviews to be published on BantaMu and promoted thru our social networks.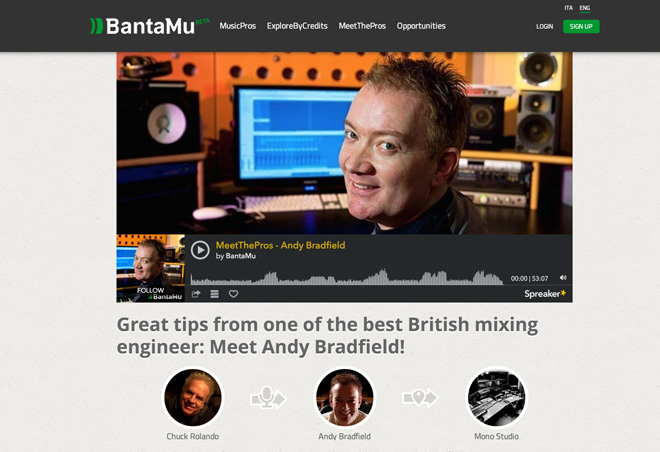 SD: What are your next steps for the future of the platform? Are you planning some new feature or collecting ideas to expand your audience in other fields?
GG:Â We will come out of beta for the new year and launch a new section called Opportunities enabling musicians to post jobs and music professionals to offer their services and apply for new collaborations.
There will be a form of Secure Payment service to allow our users to purchase and pay for services done by professionals directly on BantaMu in a totally safe and monitored environment.
Then we plan to launch a range of premium services to allow our users to upgrade their profile. Some of these new features will include more visibility on our network, the possibility to insert custom images in your credits list and statistics relating to their profile.
SD: What is your ordinary day of work like at BantaMu?
GG:Â Personally I spend a good part of the day replying to all BantaMu users asking for information or making suggestions to optimise our network.
I spend the rest of the day meeting colleagues, potential partners and investors in person or on Skype. I also invest much of my time searching online for new ideas to apply to our project and to benchmark with other similar sites and then posing questions to and asking for suggestions from the team of programmers working with me on BantaMu.
Of course, I'm still a producer and sound engineer and I collaborate with various recording studios here in Milan, including Massive Arts Studios, Mono Studio and Blend Noise Recording Studios.
However , both programmers Simone Dall'Angelo and Antonio La Scala work and live in different cities of northern Italy and we meet regularly on Skype to organise our work and discuss new ideas to develop. We often meet in person to define the calendar and work together in front of a glass of wine at lunch.
Then there are Domenico Tinelli and Chuck Rolando dealing with interviews published in the MeetThePros section in partnership with Spreaker. I meet them regularly at Mono Studio every month to record new episodes.
We plan to expand the team in the near future and find a fixed place to move our offices.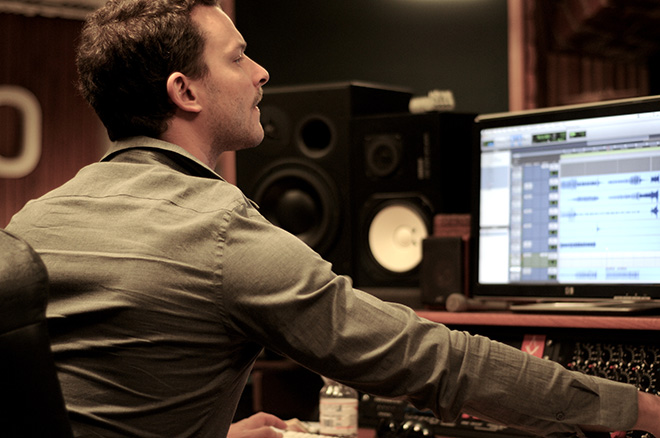 SD: Ok Giacomo, thank you very much for your time and answers. We're hungry for inspiration: could you give us 3 names for your daily inspiration (website, musician, artist, Sound lover, books, resources, whatever).
GG: Definitely a book that I read before starting this adventure that I would recommend to all those who decide to start a business online is Start-up by Herve Lebret.
As for magazines and information I could give you my top list that includes Electronic Musician, Pitchfork and Techcrunch.
While working I never stop listening to music in the background, that's why I would recommend to take a listen to a band that I produced and that has signed with Universal Music: Gli Amanti.
I would add a fourth source of daily inspiration and I would definitely choose SounDesign.
Gianpaolo D'Amico is an independent creative technologist for digital media. He is the founder of sounDesign and a music obsessed since he was 0 years old.
Latest posts by Gianpaolo D'Amico (see all)