Report on The Sound of Story, conference dedicated to sound and film professionals, which was held in Brighton on 17-18th of November as part of Cinecity, Brighton's annual film festival.
It feels good to be back in Brighton after quite a while, getting a short, but very much needed, break from the busy London. And even if you have never been in the capital before, you can imagine what I'm talking about. And what a better chance to get close to the sea than the much anticipated Sound Of Story's two days conference, on which I had some kind of expectations considering some top names in their lineup, not to mention it took me two tedious hours to get there!
And certainly people at Lighthouse nailed it, creating an intense program, which attracted people from all levels and sound fields, and where you got chance to hear some insights and behind the scenes stories you wouldn't come to know otherwise. In other words, not the average, often boring kind of conference.
As sound designers we should always keep questioning ourselves what the sounds we create are bringing to that particular moment.
Although sometimes it turned technical, you still felt involved all the way through, whatever your level of experience, and the days passed pretty fast, which is a good sign to me. Even the locations, all in the heart of the town, suited the experience pretty well, accommodating the first day's talks at the Dome theatre, while the Brighton Electric studios and Lighthouse studios hosted the second day of workshops, which brought participants hands on with some of the most established pros out there.
Martin Stig Andersen, the sound designer behind the incredible game Limbo, gave a different perspective about acousmatic composition and sound for games. I enjoyed his concepts on how diverse something can be defined and the subjectivity of boundaries between music and sound design, especially for certain kind of applications. He played some examples pointing out differences and point of conjunctions while representing basically the same thing, mutating from real to totally abstract representations. And obviously Limbo is a great example of all of that.
Music composer Nainita Desai talked about emotional response in music for film and writing for picture. I found very accurate how she described the challenges music writers experience these days, such as the pressure of being creative on highly demanding productions and very short deadlines, the great amount of time spent researching and the risks of writing blind, following just vague director's indications.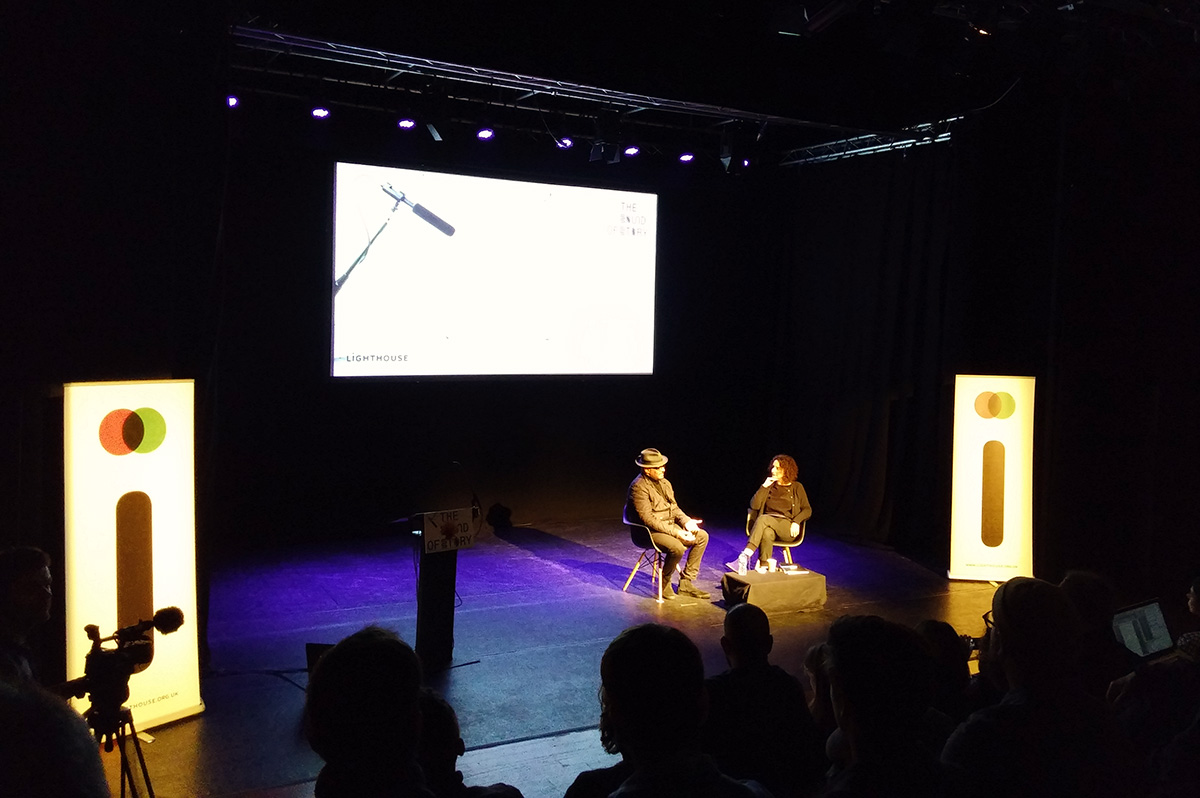 The conversation with Barry Adamson was really catching, especially his anecdotes, like the time he got the call from David Lynch, as well as his approach on facing directors requests and the need of freedom in cinematic music.
A couple of case studies followed. Matt Adams and Evan Jerred unfolded how they worked in My one demand, a 90 minutes continuous steadicam shot, live streamed online and projected in several cinemas, experimenting with audience engagement and facing the fear of no second options in a real time setup (you can watch the trailer below). Just after that Magz Hall described her radio based art installations and alternative future use of radio outside the conventional way.
Finally, arguably the most anticipated talk, brought on stage Oscar winning sound designer Glenn Freemantle, in a lively conversation which kept everyone glued at their seats, overtime. I found so refreshing and inspiring how he basically dumped all the nerdy tech directions the talk could have taken, engaging instead on a more emotional level. Throughout examples taken from some of his best works, he explained the responsibility of paying respect to the story. For instance how, as sound designers we should always keep questioning ourselves what the sounds we create are bringing to that particular moment. Also how most of our work is based on expressing points of views and meanings, rather than power and details. And even more, how we have to figure out what needs to be said rather than just throwing a bunch of sounds. And indeed, sometimes just a single sound tells the whole story. Very intense. He has got hundred films under his belt but you clearly see his excitement and need of expressing himself through his work. Brilliant!
The whole thing passed really fast and I found a remarkably curated event, with such a nice series of talks. I warmly suggest you to keep an eye on all the events people at Lighthouse arrange throughout the year and considering a short trip to Brighton for the next year Sound Of Story's edition.
Have something to add to this event? Were you there too? Share it in the comments.
Freelance sound design and music artist Carlo Ascrizzi creates original sonic contents for film, animations, multimedia and beyond. From brand commissions to experimental collaborations, his work has reached international multimedia arts festivals, film award nominations and digital arts magazines. An all-round creative, tireless traveller, Carlo is also the author of SounDesign's beloved series One Year In Sound.
Latest posts by Carlo Ascrizzi (see all)