Having a partner who snores can become a problem for both people involved. In today's digital and tech-forward world, there have been several attempts to come up with solutions that can cure sleep apnea and help those who suffer from snoring too much. However, Silent Partner is a smart, lightweight and compact device that elegantly tackles what other products fail to recognise, the snoring noises. This device creates a silent zone around the person wearing it, giving you and those around a better night's sleep. So now you no longer need to worry about disturbing your partner with your snoring and can both enjoy a quiet night of sleep and wake up feeling refreshed and ready to go.
So how does it work? Silent Partner uses patented active noise cancellation that detects the unwanted snoring sound and generates a counter sound, which suppresses it. The result is as simple as a plus and minus, as they cancel each other out. Similar to noise-cancelling headphones, the Silent Partner identifies the noise in the room and produces the opposite effect through sound. When the smartpatch is played over the initial ambient noise, the sound waves cancel each other out, resulting in the snoring noises being silently removed.
So instead of tackling the snoring, Silent Partner has decided to simply find a solution for the noise by using vast experience with Active Noise-Cancellation (ANC) technology and sleeping experts, the smartpatch was designed and developed to be effective from as close as 20 centimetres (8 inches) away. Technically speaking, the Silent Partner senses the amplitude and frequency of the disturbing sound waves and in result broadcasts in real-time, a sound wave with an inverted phase. The smartpatch is essentially based on the physics phenomenon of destructive interference, as the two waves line up effectively cancelling out each other's sound. The sound emitted by the smartpatch device is acoustic, so its frequency does not generate any vibrations that could possibly wake the snorer up. In addition, similar to headphones, the Silent Partner integrates an isolation mechanism, in order to prevent its sound vibrations from being transmitted to the body through contact, so there is no radiation emitted.
Created by Netanel Eyal and Yoni Bazak, the Silent Partner is designed to be comfortable and functional as its flexible design adapts to faces of all shapes and sizes and skins of all types of textures and moistures from oily to dry. When you hang the Silent Partner over your nose, it is gently adhered to your face as the hypoallergenic adhesive patch will secure the device in place comfortably while you sleep. The Silent Partner kit includes a pack of 14 medical-grade adhesive patches which can be reused for up to a month. The noise-cancellation device runs on a hearing-aid rechargeable battery that will last all night as it is used to power the microphone and speakers. It can be recharged with a mini-USB cable and a standard mobile phone charger. The battery of the smartpatch will need to be replaced approximately once a year and it is simple to change, as clear printed instructions for changing the battery will be included in the Silent Partner kit.
However, the real question is can this small device cancel out a solid hard snore? People snore due to many biological or personal reasons, yet the snoring noises are universally disturbing and destructive to peoples' sleeping conditions and environments. Co-founder of Silent Partner, Netanel Eyal states that "many of us have probably been there, being around or creating a symphony of snoring noises that create frustrating nights for us and our partners. Most snoring products today don't fully solve the snoring problem as they're often intrusive and disrupt the quality of sleep".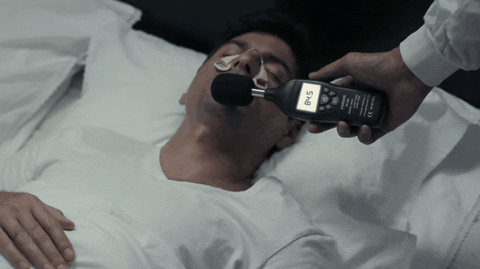 The average snore is 70 decibels, which is a unit used to measure the intensity of a sound and the speakers of the Silent Partner can reach even more, proclaims the inventor of the smartpatch, but if the snorer happens to be aggressively loud, the noise-cancelling effect will still be able to reduce the sounds but to a lesser extent.
As the total funds raised in their Indiegogo crowdfunding campaign continue to increase and surpass their expected targets, the team behind Silent Partner hope to stretch and reach their goals by offering the device with an additional range of functions in future versions, such as; presenting the nose-piece in various colours for you to choose from, adding a breathing sensor which would act as an alarm that will alert you if you stop breathing (sleep apnea), introducing an application (Silent Partner App 1.0) for smartphones and tablets that will provide basic information on your snoring and sleeping patterns, producing white noise sounds to enable you to sleep better and to create an advanced application (Silent Partner App 2.0) that will monitor and present details about your night's sleep, including snoring patterns and breathing cessation.
The company plans to finish and test the design of their snore-reducing invention around summer and start shipping and delivering their nose piece around winter of 2016. To be one of the first to experience Silent Partner and finally give you and your partner a real silent night, check out their fundraising campaign on Indiegogo so you can see what perk options they have available to get your hands on the best possible deal. Sounds like a better deal and a lot cheaper than a life time supply of earplugs.
Freelance creative designer and a digital media enthusiast from Dublin, Ireland. Farshad is a qualified professional with an MSc in Marketing Communications (2012) from MMU Business School in Manchester and a BSc in Business & Management (2011) from DIT Business School in Dublin. While having an artistic personality, he is highly passionate about creative advertising, digital marketing and graphic design as he aspires to incorporate his creative skills into his line of work to build an exciting yet challenging career in the creative and digital sectors.
Latest posts by Farshad Qasim (see all)