This post is part of a special series dedicated to the Resonate 2016 festival in Belgrade.
---
Here we are. Sadly this is the last day at Resonate 2016. It has been very intense and full of surprises, but hold on, I am going to write more about the whole experience as soon as it will reach the end and I will be rethinking about all of this back home, taking a breath after so much running.
Although in the first half of the day not everyone is here, as people are still recovering from last night, today has been interesting and full of lectures and panel discussions. While these talks did not focus on sound related stuff for most of the time, still many considerations are kind of related and involving everyone in the media and creative industry.
Among them, I liked the lecture held by Louis Mustill from Artists and Engineers, a media production company which supports artists through technology and production management. He talked about problems and obstacles artists have to face and how budgeting and institutional support is key in the art development. But more importantly, he stressed the lackness of openness on sharing skills, knowledge and resources by institutions, which, in an underlying message I got, leads to a problem many of us have to face, in terms of restrictions on funds or lack of artist's spaces. The whole message reminds me that, as creative and artist, we should keep researching and taking risks, even though council or institutional support is a big chunk obviously.
The risk-taking mood brings me to another lecture I enjoyed a lot: Kimchi and Chips, a Seoul-based art studio whose peculiarity is the interaction between physical and virtual objects. They indeed made a nice citation about risks and talent, saying how hard to death devotion and work eventually lead to good style results, regardless the talent factor. They showcased some of their finest projects, all connected by the discovery of novelty among the interaction of this two opposite worlds: real and virtual, like in the case of Lunar Surface, a live scanning installation where a 3D camera translates a dimensional time in a dimensional object, so to say. The projection, which I highly suggest to check it out, took place in an evocative incinerator bunker, a perfect space where their practice of playing with real and imaginary, reflect the idea of representing a mirror of the reality, like a moon is a mirror of our world.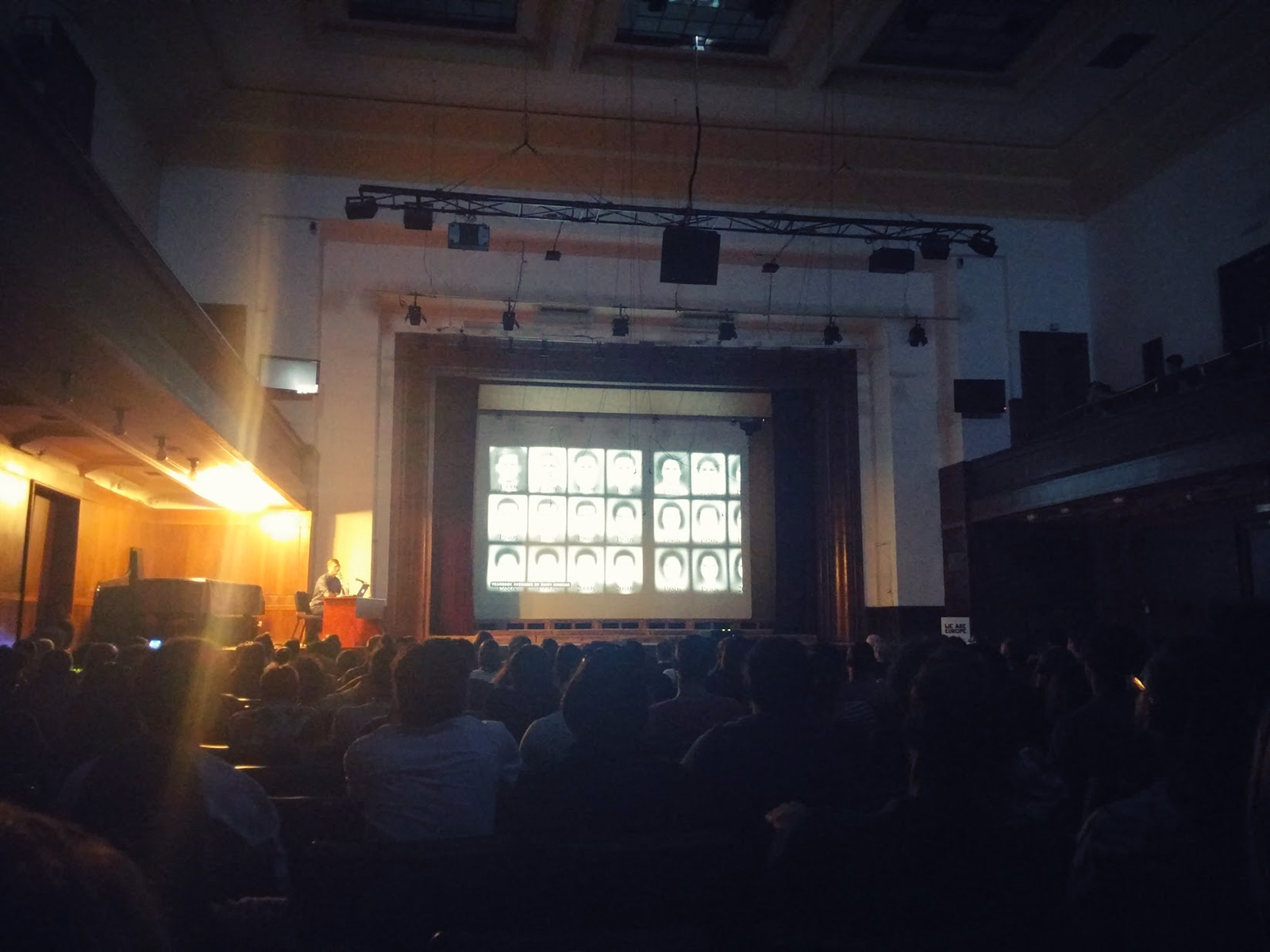 Nicholas Felton is a designer known for his Personal Annual Reports, a collection of incredible photographic representation of data and social/technological evolution. In his lecture, he showed examples of his and other artists works, the photographic technologies and techniques used over the years to track, for instance, the flight's trajectories all over the world, or how selfies give us average user preferences and shooting styles. Among of those examples, he explained how we can track preferences, habits, and how society is changing and how technologies, in the other hand, are shaping all of this. Felton's work is helping to collect and give meanings to this enormous amount of data we are generating every second.
#Inspiring stuff by @memotv – complexity from simplicity; God is in the cloud(s); and collab poetry w @google #res16 pic.twitter.com/ElXyPrLc3E

— Daniel Hirschmann (@danielhirschman) April 16, 2016
Staying in the theme of exponential quantity of data, Memo Akten, in his brilliant lecture, faced the problem trying to track down meanings especially in terms of users surveillance due to the big corporate's data control and similar topic like, as an example, what's the people's behaviour in relation to how much they feel themselves observed. Akten's work focuses on human interaction with machines, and in a showcase of his works, emerged his attention on semi-automated intelligent systems and machine learnings. Going back to data, he stressed how there is more and more need of artificial intelligence to understand and give meanings to an otherwise unfairly missed amount of information. I liked also his installations which combine harmonic movements, sounds and conceptualizations. At the very end, I think that all of this information gives us some good insight about the relations society, progress, culture and even religion have with each other. Also from all of this, we can recognize we are maybe too much concerned about big brother's control. He finished reading a poem based on the Google words suggestions, where basically the search engine becomes a keeper of our collective emotions, so to say, stuff we wouldn't say to a friend, which also have some hilarious ones like: "I want… a hippopotamus for Christmas".
After an interesting last day, all is set and everyone is waiting for the closing night. Jumping between boat parties and underground clubs, and with performances like the ones by Holly Herndon and Dadub, we should expect some mind blowing all night long fun in the amazing Belgrade!
[featured photo credits by Ilya Ryzhkov]
Freelance sound design and music artist Carlo Ascrizzi creates original sonic contents for film, animations, multimedia and beyond. From brand commissions to experimental collaborations, his work has reached international multimedia arts festivals, film award nominations and digital arts magazines. An all-round creative, tireless traveller, Carlo is also the author of SounDesign's beloved series One Year In Sound.
Latest posts by Carlo Ascrizzi (see all)