Created 10 years ago by the brainchild of Carola Haupt and Ilaria Gadenz, Radio Papesse is a platform devoted to sound art, which worked with artists, musicians, producers and Djs in order to create one of the most interesting and open online audio archives dedicated to contemporary arts.
Now they started a Kickstarter campaign in order to keep Radio Papesse alive and start a new stage, including a new website and more. We met Carola and ask her a few questions regarding the past, the present and the future of this amazing project of sonic storytelling. Check the interview below.

Hi Carola, thanks for taking the time to talk to us. Can you tell us who are you and how everything started?
Carola Haupt: We're Radio Papesse. Yes, ok but what does it mean? It means that we're a web radio, an audio archive and a production group devoted to contemporary art and its sonic dimension, to radio and sound art. Today Radio Papesse is led and curated by Carola Haupt (me) and Ilaria Gadenz.
It all started as a project in the early 2000s in Siena inside the Palazzo delle Papesse Contemporary Art Center (which nowadays doesn't exist anymore) and in 2006 the website radiopapesse.org was born. A few years passed and the museum closed, but Radio Papesse did not. Instead, it became an independent cultural association and then it moved from Siena to Florence where it's been a guest at Villa Romana since 2011.
Today, after 10 years we like to think that what we're doing is not a project anymore, it's a reality. What had begun as a challenge, has become an incredibly rich sound archive which includes thousands of hours of sounds, interviews, documentaries, experimental audioworks… and all of it is published under Creative Commons, for we think that the archive is not ours to keep but for everyone to enjoy.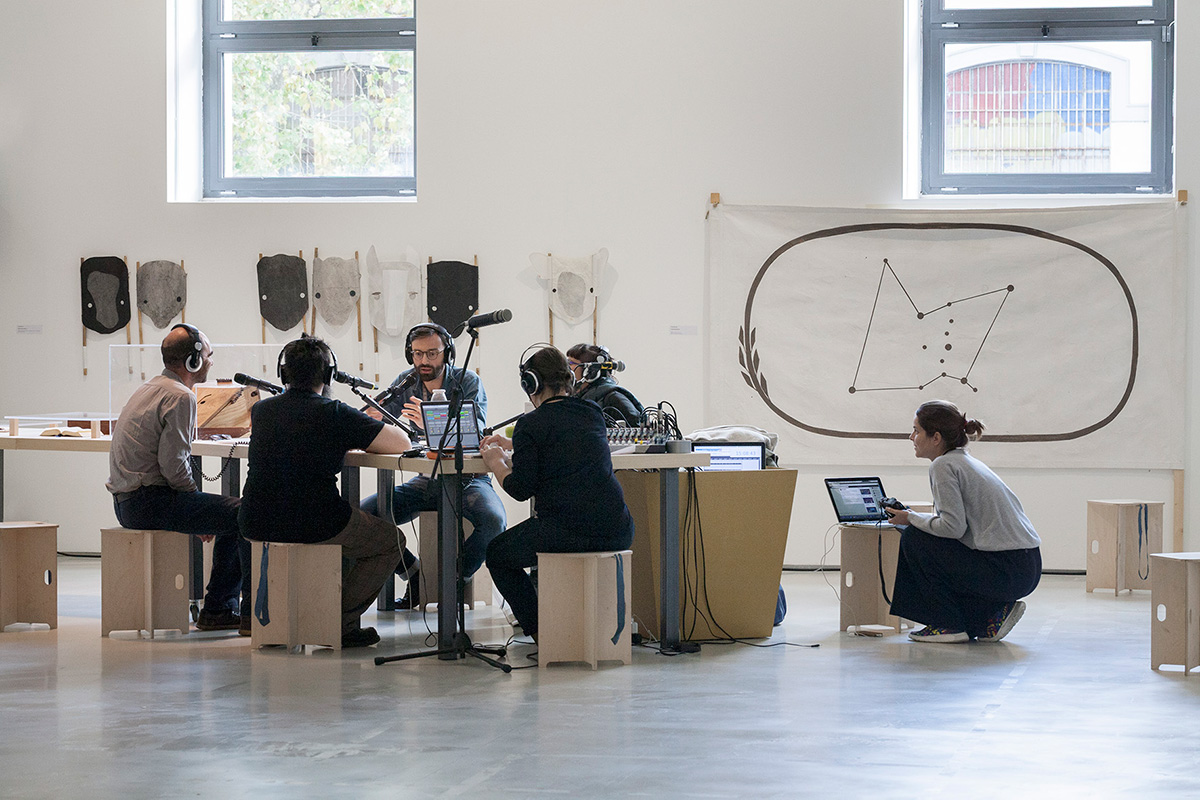 Radio Papesse started as a web radio, but now it is something more than that, isn't it?
CH: We think that the radio in Radio Papesse is not only a medium, but a language; the language we chose and an incredibly powerful tool to talk about contemporary art and to listen to the world we live in.
During those years we have produced documentaries and interviews, we have created, collected and commissioned dozens of soundworks, invited producers to use the tools of radiophonic storytelling and given a voice to art and artists alike.
At the end Radio Papesse is about listening: listening to art, to its voices and to the world we live in.
That is why for us it is very important to keep our ears open not only for soundart and experimental radio but also towards acoustic ecology, sound design, audio branding…
Why did you choose to start a campaign on Kickstarter? What is happening right now?
CH: We never had great resources and we're always used all of them to produce or commission new works, but in the process our website became old and we definitely outgrew it. That is why (finally!) – on the occasion of our 10th birthday – we decided to renew it; not just a restyling, but a whole new architecture to enhance the thousands of hours of sounds within the archive and a new website easier to access, research and share: a tool for great new radio production. But that's not cheap and this is the reason why we decided to launch a Kickstarter campaign.
We want to put (and keep) online the best possible website and sound archive, we want it to be fully bilingual, to be a flexible platform for future projects we may both produce and host.
Now, two weeks in and two weeks to go, we've already had an overwhelming response and we've found a renovated community of supporters that do think Radio Papesse's archive and our e stubborn endeavor are worth supporting.
Your future seems to be full of ideas and projects, which are your next steps?
CH: To keep producing, distributing and more of anything to keep listening! In the last few months we've been intensively working on the new website together with Muttnik, a brilliant group of Florence-based designers and we are looking forward putting it online this summer. So there's a lot of that: translating, programming, archiving, designing…
But we're also working on our next big project: Süden #2. Süden Radio is something we've started three years ago which aims to be a sharing platform for sound and radio productions from the South of the Mediterranean Sea and the Middle East.
For its new chapter we're working on a symposium on new geographies of sound and a series of workshops dedicated to territorial audio branding; everything will hopefully take place between the end of this year and next summer (2017).
The Kickstarter campaign involves Süden too: if we'll manage to reach the €6000 goal we need for the new website, all the extra money we'll be able to raise will be used to make Süden Radio #2 happen by commissioning new soundworks and papers.
At the end, which are your influences and inspirations from culture to music and so on?
CH: We're pretty eclectic: in sound, in music and experimental radio. But if one name has to be done it can't be but William Furlong, who established Audio Arts magazine in 1973, mapping the contemporary art scene through the mean of sound and using the voice as a sculptural material in replacement of objects.
And then there's Adrian X and his manifesto Toward a definition of radio art; we love its openness and also the gap that the word toward is granting us: the possibilities, the errors and sins we can linger into while finding our way to radio art.
Gianpaolo D'Amico is an independent creative technologist for digital media. He is the founder of sounDesign and a music obsessed since he was 0 years old.
Latest posts by Gianpaolo D'Amico (see all)