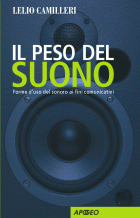 Uscito alla fine del 2005 per Apogeo, questo libro ci mancava…Lelio Camilleri infatti si fa carico di affontare un tema tanto importante quanto finora ingiustamente sacrificato- l'importanza fondamentale (il peso, per l'appunto) del suono nella comunicazione contemporanea. Meglio detto, la funzione comunicativa del suono è presentata nei suoi molteplici aspetti che vanno dal rapporto del sonoro con le immagini (nel cinema, nella videoarte, nella comuncazione pubblicitaria…), alle trasformazioni radicali del linguaggio sonoro dal fissaggio del suono su supporto alla rivoluzione digitale, all'uso funzionale del suono (nella Rete, ed esempio), last but not least alla fruzione del suono e ai processi d'ascolto…il tutto senza mai tralasciare informazioni puntuali e preziose non solo per un pubblico attento ma anche per i professionisti del suono: si veda il capito 5 "Metamorfosi e trasformazioni sonore", in cui sono presentate con chiarezza alcune tra le trasformazioni sonore fondamentali nel trattamento digitale del suono- dilatazione/compressione temporale, tasposizione, granulazione, filtraggio, delay…
Numerosissimi gli esempi, da Pierre Schaeffer a Frank Zappa, da Luciano Berio a Britney Spears. Molto interessanti i reportage di esperienze reali di sonorizzazione d'ambienti, come la descrizione dell'installazione realizzata dal Centro Tempo Reale di Firenze per l'inaugurazione dell'Auditorium di Roma.
Insomma, un testo essenziale per apprezzare meglio
… questo orecchio che noi possediamo dotato inoltre di strumenti di precisione, d'ingrandimento, di accelerazione, di rallentamento, e che non è più un orecchio nudo e sprovveduto come lo era l'occhio prima del microscopio.
[
Pierre Schaeffer
in Bayle, 1990 -op.cit. in "Il peso del suono", L.Camilleri, pag.13]
Il peso del suono, Lelio Camilleri, Apogeo 2005, euro 15
http://www.apogeonline.com/libri/88-503-2396-4/scheda
Sara Lenzi is Director of Marketing at Sonoport. With more than a decade of experience in sound design and audio branding consultancy, she writes about all the multifaceted aspects of sound in communication. She is an international lecturer and founder of Lorelei Sound Strategies, the first sound branding boutique studio in Asia. Sara has a Master Degree in Philosophy from the University of Bologna and she is starting her PhD at the University of Bilbao, Spain. She lives in Singapore, where she spends her free time in tireless exploration of local food stalls and vintage shops, sipping cocktails in the tropical humidity and diving with giant turtles in the South China Sea.
Latest posts by Sara Lenzi (see all)