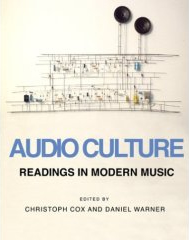 Vi segnalo un bel libro a cura di Christoph Cox, professore di filosofia presso lo Hampshire College del Massachussets e ospite regolare del mitico The Wire, e di Daniel Warner, professore di musica nello stesso college dove si occupa prevalentemente di elettroacustica e sound art.
Si tratta di un bel tomo di quattrocento e più pagine, disponibile solo in lingua inglese, ma agli anglofoni tra voi consiglio proprio di non perderlo…
Per darvi un'idea vi basti spulciare l'indice dei capitoli, suddivisi in due macroparti – Theories e Practices:
Music and Its Others: Noise, Sound, Silence
Modes of Listening
Music in the Age of Electronic (Re)production
The Open Work
Experimental Musics
Improvised Musics
Minimalism
DJ Culture
Elctronic Music and Electronics
Ce n'è davvero per tutti i gusti. Ogni capitolo è costituito in realtà   da una raccolta di brevi saggi ad opera di una vastissima gamma di autori. Si va da brani storici e spesso difficilmente reperibili di Pierre Schaeffer, Karlheinz Stockhausen, John Cage, Glenn Gould, Luigi Russolo e Edgard Varèse; a testimonianze di grandi protagonisti della storia della musica su supporto: Brian Eno, Pauline Oliveros, Chris Cutler e John Oswald, David Toop.
Molto interessante la parte dedicata alla musica improvvisata, che da' voce alle testimonianze dirette dei suoi protagonisti, da Ornette Coleman a Derek Bailey, da Anthony Braxton a Earle Brown o ancora Cornelius Cardew.
Il pregio del testo è quello di ricostruire attraverso brevi ma dettagliati racconti – scelti oculatamente dai due curatori – un panorama vasto e complesso, che va dalla elettroacustica classica (dobbiamo ancora usare il termine accademico, a me odioso ma che purtroppo rende ancora l'idea) agli sviluppi successivi delle musiche per supporto, che come sappiamo hanno coperto uno spettro vastissimo che oggi comprende i vari settori della DJ Culture e quella che si chiama sound art.
Gli autori sembrano sposare una tesi che io condivido: quella cioè per cui, nonostante oggi alcuni autori della scena techno e elettronica si richiamino esplicitamente al padre fondatore Pierre Schaeffer, gran parte dello sviluppo della musica su supporto è stato debitore alla parallela evoluzione della musica strumentale da una parte, ovvero:
le opere di Cage non solo e non tanto elettroniche;
lo sviluppo dello studio di registrazione come luogo di produzione anche per le band strumentali del rock progressivo e del pop;
gli sviluppi nel jazz, dal free all'improvvisazione radicale;
le sperimentazioni degli anni '60, il minimalismo e le influenze ritmiche extraeuropee;
la disco music, e le sottoculture legate al club, alla musica da ballare, al mixaggio live;
Dall'altra ad una visione della tecnologia applicata all'arte più tipica del futurismo italiano che delle ricerche schaefferiane, e remotamente legata ad una certa (secondo me fraintesa) visione di Edgard Varèse, per cui:
la nuova tecnologia avrebbe fatto la nuova musica. La musica del futuro sarebbe stata quella delle macchine e il nuovo suono il suono della civiltà   industriale.
Ben diverso da Schaeffer e da un pensiero profondamente musicale, per cui l'approccio con la macchina era solo e puramente un mezzo per lavorare sul suono da vicino ma sempre per far emergere ciò che di musicale c'è nelle componenti del suono stesso.
Un unico appunto al testo: personalmente ho trovato un po' al di sotto del resto il capitolo sul minimalismo. Molti degli autori sembrano infatti insistere sul fatto che il minimalismo fu la vera risposta americana ad una musica classica europea concentrata su stessa e in decadenza durante il secolo XX. Niente da dire, se non che il termine di paragone per gli autori è il primo Schoenberg. Bhè, posso senza dubbio garantire che la musica classica europea del Novecento non si fermò a Schoenberg e alla dodecafonia…
In chiusura, vi segnalo la ricca bibliografia e l'utile cronologia presenti in coda al libro. Ma il vero pezzo forte è la Discografia, nella quale si indicano una serie di pubblicazioni musicali mirate per ogni capitolo. Una vera miniera!
E per finire sul serio, ecco la mia personale selezione:
"The beauty of Noise: An interview with Masami Akita of Merzbow", cap.1;
"Acousmatics", di Pierre Schaeffer, cap.2;
"Profound Listening and Environmental Sound Matter", di Francisco Lopez, cap.2;
"Ambient Music", di Brian Eno, cap.2;
"Plunderphonia", di Chris Cutler, cap.3;
"Visual Sounds: On Graphic Score", di Christoph Cox, cap.4;
"Towards (a Definition of) Experimental Music", di Michael Nyman, cap.5;
"The Generating Game", di David Toop, cap.5;
"Free Improvisation", di Derek Bailey, cap.6;
"Stockhausen vs The Technocrats", cap.9: una spassosa intervista doppia tra Stockhausen e Aphex Twin, Scanner e Daniel Pemberton;
Vi segnalo che il bellissimo saggio di Stockhausen sulla nascita della musica elettronica esiste in traduzione italiana nel testo (purtroppo fuori stampa) La musica elettronica, di Henri Pousseur edito da Feltrinelli, 1976.
Audio Culture è disponibile su Amazon a partire da 9 dollari e 98.
Sara Lenzi is Director of Marketing at Sonoport. With more than a decade of experience in sound design and audio branding consultancy, she writes about all the multifaceted aspects of sound in communication. She is an international lecturer and founder of Lorelei Sound Strategies, the first sound branding boutique studio in Asia. Sara has a Master Degree in Philosophy from the University of Bologna and she is starting her PhD at the University of Bilbao, Spain. She lives in Singapore, where she spends her free time in tireless exploration of local food stalls and vintage shops, sipping cocktails in the tropical humidity and diving with giant turtles in the South China Sea.
Latest posts by Sara Lenzi (see all)