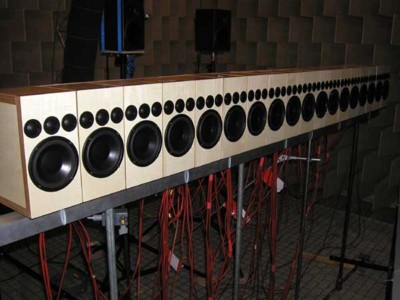 L'application form non è ancora on line, ma vi consiglio di tenere sott'occhio la call for participation della 5th Sound & Music Computing Conference che si svolgerà   a Berlino presso l'Università   Tecnica dal 31 luglio al 3 agosto 2008.
Il termine per l'iscrizione è il 15 maggio, ma la pagina ufficiale con il form è ancora in costruzione. Due la categorie: papers e music – naturalmente acusmatica.
Unico invece il tema della V edizione, ovvero Sound in Space/Space in Sound. Si esplorerà   dunque il rapporto tra il suono e lo spazio, e in particolare tra suono su supporto e sistemi di spazializzazione. A disposizione dei partecipanti ci saranno i più rinomati sistemi di diffusione multicanale:
Come immaginerete, si tratta di impianti dotati di all'incirca 50 diffusori, che vanno a potenziare il gioiello della Technisce Universitat Berlin: il più grande sistema fisso di wave field synthesis esistente, che si trova nell'auditorium da 700 posti dell'università  .
I lavori inviati dovranno dunque avere una delle seguenti caratteristiche:
brani acusmatici;
brani per sistemi di diffusione multicanale, tenendo presenti quelli messi a disposizione per l'ccasione;
brani per wave field synthesis.
Certo, non è facile progettare per sistemi così complessi non avendoli a disposizione, a meno di non avere una lunga esperienza sul campo. Ma la call è aperta anche a lavori in mono, da spazializzare poi sul posto.
I dettagli tecnici dei sistemi di spazializzazione saranno presto disponibili sul sito di Sound in Space.
Sara Lenzi is Director of Marketing at Sonoport. With more than a decade of experience in sound design and audio branding consultancy, she writes about all the multifaceted aspects of sound in communication. She is an international lecturer and founder of Lorelei Sound Strategies, the first sound branding boutique studio in Asia. Sara has a Master Degree in Philosophy from the University of Bologna and she is starting her PhD at the University of Bilbao, Spain. She lives in Singapore, where she spends her free time in tireless exploration of local food stalls and vintage shops, sipping cocktails in the tropical humidity and diving with giant turtles in the South China Sea.
Latest posts by Sara Lenzi (see all)