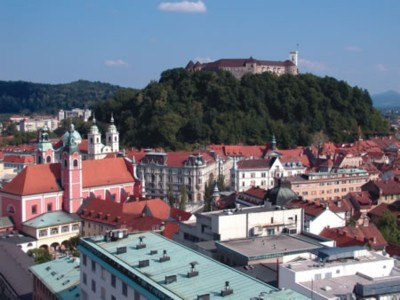 Due call molto diverse tra loro ma anche diverse dalle richieste che pubblichiamo di solito scadono in aprile, e meritano di essere segnalate. Oggi partiamo con la prima…
Arriva da Ljubljana, capitale della Slovenia. Lì si svolgerà   dal 3 all'8 novembre HAIP: festival biennale dedicato alle tecnologie open source e alla loro applicazione nell'arte. Il festival si propone come punto di incontro tra la tecnologia open source e quell'arte multimediale che si lega indissolubilmente ad un uso free della tecnologia stessa.
Il pubblico cui si rivolge Рcito testualmente Р̬ quello degli artisti emergenti e degli ingegneri creativi. Poich̬ credo che tra i nostri lettori siano ben rappresentate entrambe le categorie, ecco una cosa potrebbe interessarvi:
scade il 21 aprile la call per l'edizione di quest'anno – la terza. Titolo: Hacktopia. Nelle declinazioni degli organizzatori:
To Hack:
Verbo: scrivere la parte di un codice di programma
Verbo: cambiare un programma, spesso in modo illegale, riscrivendone il codice
Sostantivo: parte di codice scritto per implementare le funzioni di un programma
Sostantivo: inelegante e temporanea soluzione di un problema
Topos: dal greco, luogo, spazio. Hacktopia: non- luogo, luogo che non esiste, ma anche luogo perfetto. In altre parole, luogo ideale di condivisione della conoscenza secondo modalità   oggi ancora impossibili. Il progetto per Hacktopia è il progetto per un ambiente inestistente.
Questa la traccia. L'entry-form è on line. La domanda deve includere oltre al form compilato, una presentazione del progetto in A4 (che verrà   usata come materiale divulgativo durante il festival) e del materiale di supporto (video o altro). Il tutto va spedito a:
Dasa Lakner
Zavod 46/4, Kiberpipa
Kernikova 6
1000 Ljubljana, Slovenia
con la dicitura: "Application Haip 2008". Per info: haip@kiberpipa.org.
Sara Lenzi is Director of Marketing at Sonoport. With more than a decade of experience in sound design and audio branding consultancy, she writes about all the multifaceted aspects of sound in communication. She is an international lecturer and founder of Lorelei Sound Strategies, the first sound branding boutique studio in Asia. Sara has a Master Degree in Philosophy from the University of Bologna and she is starting her PhD at the University of Bilbao, Spain. She lives in Singapore, where she spends her free time in tireless exploration of local food stalls and vintage shops, sipping cocktails in the tropical humidity and diving with giant turtles in the South China Sea.
Latest posts by Sara Lenzi (see all)