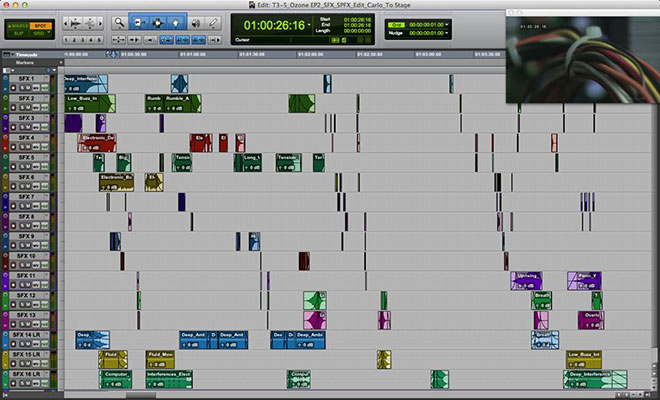 This post is part of a series called One Year in Sound by sound designer Carlo Ascrizzi.
The first step is the Spotting Session. In your first meeting with the film crew, you will discuss the main sound guidelines, watching and commenting the Rough Picture (the main rough video cut) in your assigned MixLab. You need as many informations and details as possible, in order to start your editorial work.
Now it's time to work on your edit. All the Post-Editing classes are workshops in which you constantly have feedbacks and reviews.
Next step is the Interlock. You meet the film crew in the theater, screening what you edited so far. So you get updated and more detailed guidelines besides reviews of you work in order to do all the fixes you need before the Lock Picture (the final cut).
Meanwhile you are waiting the final picture from the film campus, next classes are spent learning how to conform your rough edit to the final picture. Also you will be shown the delivery specifications and the procedures to send your final edit to The Stage (final mix stage).
Cool… the mix session starts! One day each film. Your term 5 crew is going to mix the film in the theatre. You are still there as editor, super ready if any editorial fix is needed. When I say "if" I mean that you have fixes for sure… :)!
So open up your work session again, do all the fixes and re-submit to the stage. Just be fast and good. At the end of the day even if the final mix is still not done your work as editorial comes to the end.
Next week you take part to the tech-screening, with just sound people, before to delivery the movie to the clients.
Here some sound design and SFX cuts from Ozone, the short movie I worked on, check it out!
Freelance sound design and music artist Carlo Ascrizzi creates original sonic contents for film, animations, multimedia and beyond. From brand commissions to experimental collaborations, his work has reached international multimedia arts festivals, film award nominations and digital arts magazines. An all-round creative, tireless traveller, Carlo is also the author of SounDesign's beloved series One Year In Sound.
Latest posts by Carlo Ascrizzi (see all)