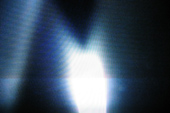 L'evento più atteso della prima giornata di Netmage è Eyerophany, una session live nata dall'idea di Emiliano Montanari in collaborazione con Enrico Ghezzi. Si è realizzata, come da programma alle 23,30 per una folla racchiusa nello spazio irregolare di un esagono formato da quattro schermi spazio consolle e perimetro della lunga sala. Sugli due schermi paralleli le immagini dei film di David Lynch, gli altri due dedicati alle performance in di Asja Bettin e del pubblico (Not a soul) con telecamera.
Si legge nella presentazione: "Un evento di magia che presenta e trasforma la nuova sconvolgente performance live di (una nuova porta aperta sul suo nuovo capolavoro Inland Empire), notasoul/ seeingwithnoone's eye di Enrico Ghezzi e Shoa(Eye) di Asja Bettin, nell'impossibile atto di 'vedere'. Notte di magia che si apre su altri cortocircuiti cinematici con Thomas Pynchon, Paul Virilio, Hideo Kojima e altre apparizioni "misteriose".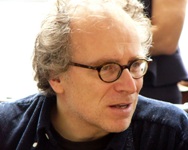 Enrico Ghezzi, apre la serata come uno ieratico iniziatore della comtemporaneità  . "Not a soul" grida il critico performer, citando di Eyes wide shut di Kubrick, la festa a casa di Ziegler in cui gli invitati omolgati nei vestiti, nei gesti, nei volti indefiniti, sono assolutamente senz'anima. Forse per questo quando Ghezzi-ierofante dice "possiamo urlare, potete urlare", nessuno urla solo lui intimidito dalla mancanza di reazione emette un stridulo richiamo. Not a soul no shaut — mi viene da pensare – Ma allora insiste "potete fischiare" e la folla risponde quasi immediatamente…. il fischio è meno impegnativo e più neurtro emotivamente o forse si tratta di un'altra citazione cinematografica Il club dei mostri (1980) con Vincent Price e John Carradine.
"Io non accado se mai sono caduto, come tutto .. del resto" continua evocanto realtà   psichiche "L'impero è dentro di noi, noi siamo dentro l'impero" e altri ameni nonsense su cui riflettere. Poi la dinamica del gioco performativo "una telecamera in mano a chiunque.. tutti possono usarla.. cioè nessuno può". Ecco l'oftalfania, la manifestazione dello sguardo, ecco il tema "Vedere con l'occhio di nessuno". Mentre la musica produce un impasto cromatico a tratti vaghissimamente ritmico nessuna massa va in paradiso ma precipita nell'indistinto clamore del già   detto già   visto, già   reiterato. A tratti sullo schermo che proietta la telecamea in diretta, un telefonino con il messaggio "Il tempo è invenzione degli uomini incapaci di amare"
Sara Lenzi is Director of Marketing at Sonoport. With more than a decade of experience in sound design and audio branding consultancy, she writes about all the multifaceted aspects of sound in communication. She is an international lecturer and founder of Lorelei Sound Strategies, the first sound branding boutique studio in Asia. Sara has a Master Degree in Philosophy from the University of Bologna and she is starting her PhD at the University of Bilbao, Spain. She lives in Singapore, where she spends her free time in tireless exploration of local food stalls and vintage shops, sipping cocktails in the tropical humidity and diving with giant turtles in the South China Sea.
Latest posts by Sara Lenzi (see all)