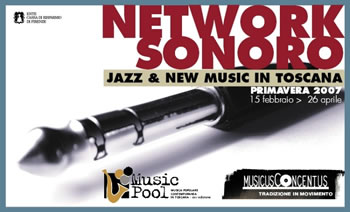 Dal 15 febbario al 26 aprile 2007 l'organizzazione fiorentina Musicus Concentus propone Network Sonoro, una serie di incontri musicali su jazz e news music in varie località   della Toscana.
Il programma ovviamente è molto ricco, si va dall'oramai collaudato duo Paolo Fresu e Uri Caine, all'onnipresente (pure troppo) Joe Zawinul, all'immarcescibile Evan Parker, al rinato (per fortuna sua…e anche nostra) Sergio Caputo Quintet.
Se fosse solo per questi artisti chi segue questo blog sarebbe giustificatissimo nel mandarmi messaggi di offese di tutti i tipi.
In realtà   la cosa ci interessa, eccome, andando a scandagliare in alcuni nomi, ovviamente sconosciuti a chi segue il jazz e non la new music (ma chi se l'è inventata questa etichetta???)…
Allora ecco alcuni personaggi interessanti per il giovane (e anche no…) soundesigner: il campione dell'indietronica tedesca Schneider TM, gli improvvisatori di paesaggi sonori Triosk, il visionario islandese Johann Johannsson, gli invincibili Tuxedo Moon (in collaborazione con il l'artista visual George Kakanakis), gli eterei Isan….
Occhio perchè tutti gli incontri musicali sono in zone diverse della Toscana, per cui ci vuole un pò di pazienza per andarli ad audiovedere tutti….
Gianpaolo D'Amico is an independent creative technologist for digital media. He is the founder of sounDesign and a music obsessed since he was 0 years old.
Latest posts by Gianpaolo D'Amico (see all)