Immaginate questo scenario: il vostro committente vi chiede di utilizzare un brano ma non ne ricorda il nome.
Immaginate un altro scenario: vi ricordate di essere degli smemorati e di non ricordare i nomi degli artisti e/o con i titoli delle composizioni che dovrete utilizzare, sezionare, campionare, trasformare, scolpire?
Piccoli problemi di vita per il sound designer medio….Midomi fa al caso vostro (o quasi)…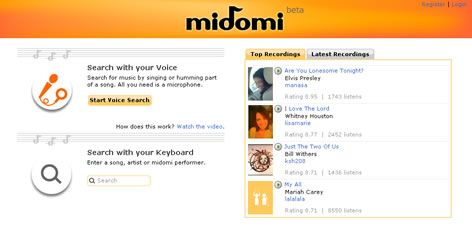 Una community basata sul solito pay-off Discover Music and People, ma stavolta con una marcia in più: un motore di ricerca che consente di trovare i brani utilizzando la propria voce.
Oltre all'old-fashioned ricerca per testo il motore di Midomi consente di registrare la vostra angelica voce mentre improvvisa il motivo e restituisce non solo i brani dei motivi simili, ma anche la parte simile cantata dagli altri membri iscritti.
In poche parole più si canta e più si vince….questioni di community intonate o meno….
Ho fatto delle prove con il primo motivo che mi è venuto in mente, un riconoscibilissimo e scontatissimo Singin' in the Rain, ma il rilsutato non è stato molto incoraggiante. Ma, come al solito, sul logo di Midomi è presente la dicitura beta…
Gianpaolo D'Amico is an independent creative technologist for digital media. He is the founder of sounDesign and a music obsessed since he was 0 years old.
Latest posts by Gianpaolo D'Amico (see all)