Sta uscendo il nuovo disco di Amon Tobin, uno dei più grandi musicisti di musica elettronica degli ultimi anni.
Come anticipazione viene rilasciata la nuova versione del sito ufficiale: Amon Tobin | Field Recording Excursion, che anche per stavolta è destinata a far parlare molto di sè nel mondo del web.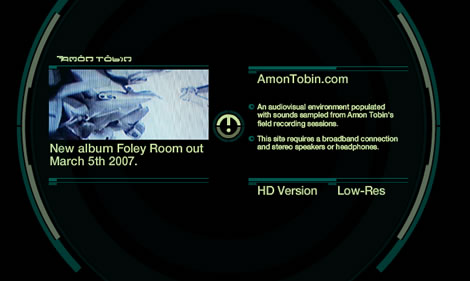 Ricordate la precedente versione? Quella in cui un primitivo sequencer consentiva di creare dinamicamente composizioni da loop preregistrati, attivabili tramite tasteria?
Sono passati più di 5 anni da quel primo esempio di generatore interattivo di composizioni sonore sul web. Da lì in poi centinaia di altri progetti hanno proposto variazioni più o meno riuscite di quella macchina.
Stavolta il brasiliano elettonico più famoso del mondo propone un'esperienza sonora più coinvolgente, basata sull'utilizzo di alcuni field recordings utilizzati nell'imminente disco.
Il nuovo sito consiste in uno spazio immersivo nell'acqua in cui è possibile navigare liberamente. L'esplorazione è accompagnata da suoni generati in funzione della navigazione. Accellerazione, decellerazione, movimenti laterali, il tutto sonificato in funzione dell'interazione dell'utente. Ovviamente il consiglio è di usare delle buone cuffie per godersi a pieno il panorama stereofonico.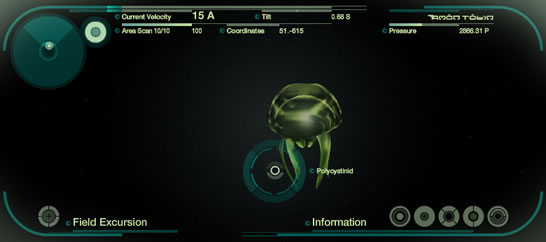 Tramite un sonar (disposto in alto a sinistra) è possibile individuare delle creature, ognuna delle quali contiene un certo numero di sample, tratti da suoni naturali campionati nei viaggi dell'artista.
Ogni creatura possiede 6 suoni che possono essere ascoltati e registrati. Una volta registrati tutti i suoni viene attivato un video in cui la creatura riproduce una composizione sonora basata sui suoi campioni. Un miniclip dei brani di Tobin, in poche parole. Ironico (guardate come si muove la creatura) e contagioso (riuscite a stare fermi?)…
Il mondo del web, come ben sappiamo, è sempre rimasto un pò indietro nella creazione di mondi sonori immersivi, a causa di evidenti limiti tecnologici, tuttavia questo nuovo progetto di Amon Tobin ci fa ben sperare per il futuro del sound design in questo contesto, grazie a una cura non comune per la scelta sonora e per la sua presentazione in funzione dell'interazione con l'utente.
Gianpaolo D'Amico is an independent creative technologist for digital media. He is the founder of sounDesign and a music obsessed since he was 0 years old.
Latest posts by Gianpaolo D'Amico (see all)