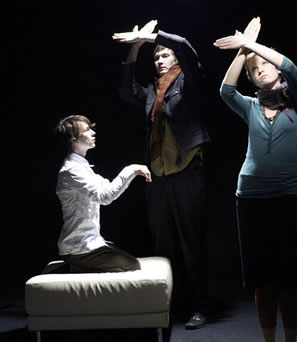 Ci sono alcuni artisti che, in determinati periodi storici sonori, mettono d'accordo tutti, dai giornalisti ai musicisti, dai compositori ai semplici (per modo di dire) ascoltatori.
Leafcutter John è uno di questi. Salito alla ribalta con il suo nuovo disco The Forest and The Sea (Staubgold Records), in realtà   il candido ragazzone della provincia inglese è un personaggio poliedrico, dedito alla costruzione di oggetti tout court. Dalle chitarre fino alle…..patch di MAX/MSP.
La Cycling '74 ovviamente non si fa scappare quest'occasione e gli dedica un'intervista, in cui si parla della sua passione ossessiva per la programmazione, che lo ha più volte messo di fronte a una drammatica (siamo sicuri?) scelta: la fidanzata o MAX/MSP?
Indipendentemente dalle battute sulla gestione dell'amore per un nerd conclamato, l'intervista a Leafcutter John mette in luce una caratteristica importante per il sound design moderno, ovvero la capacità   di utilizzare software complessi, creati per situazioni ben diverse, per una composizione musicale più vicina al pop sperimentale, piuttosto che alla contemporanea o all'elettronica.
Provate ad ascoltare qualche brano di John e cercate di identificare i momenti in cui entra in gioco l'utilizzo di MAX/MSP.
Il resto dell'intervista svela altre informazioni sul personaggio, come l'ossessione per il tema della foresta (sul quale ha creato la famosissima patch chiamata Forester), le caratteristiche dell'installazione Soundtrap II, il set-up da concerto, la sua attività   come docente di MAX/MSP.
Insomma, andiamo al dunque….organizzatori di eventi, a voi la richiesta….riusciamo a farlo venire in Italia o no? Il contatto diretto è qui…vive a Londra, non deve fare molta strada…
Gianpaolo D'Amico is an independent creative technologist for digital media. He is the founder of sounDesign and a music obsessed since he was 0 years old.
Latest posts by Gianpaolo D'Amico (see all)