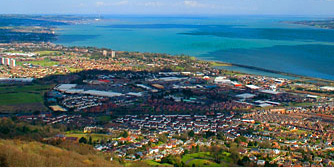 Puntualmente, anche quest'anno, si aprono i giochi dell'International Computer Music Conference.
L'edizione 2008 si terrà   in quel di Belfast, Irlanda del Nord, dal 24 al 29 agosto presso la Queen's University.
Interessantissimo il tema:
Roots/Routes
Ovvero: placement/displacement…
L'esplorazione del contesto "locale", quello a noi più vicino nello spazio ma non necessariamente nel tempo, e quindi: la ricerca delle radici sonore e musicali ancorate ad un determinato contesto. Dall'altra parte l'esplorazione del fuori, del lontano, laddove ci portano le strade – Routes – che ognuno di noi nella propria vita, artistica e non, si trova ad imboccare.
Detto altrimenti – chè non vi dovete preoccupate, le intenzioni degli organizzatori sono eminentemente pragmatiche, e artigianali – si tratta di esplorare quell'interfaccia, quella zona fertile e malleabile dove l'importanza e l'influenza del contesto locale e delle specifiche culture musicali che gli appartengono si intrecciano e si sviluppano grazie a tecnologie nate attraverso collaborazioni internazionali, e reti di conoscenza e scambio che – serve dirlo? – nel mondo a 2.0 sono una realtà   in costante cambiamento.
Abbiamo il piacere di notare che il bisogno di esplorare questo tema – il rapporto tra una formazione e un'identità   sonora/musicale radicate in un luogo e in una cultura, e lo sviluppo di tecnologie come strumenti a diffusione planetaria, e a planetaria standardizzazione – nasce dall'osservazione di una serie di nuove modalità   di azione, creazione e divulgazione dell'arte dei suoni.
Tra queste, per l'appunto, il blog. E non possiamo che sentirci chiamati in causa. E poi net-labels (con tutto il bene e il male che si portano appresso, se ne potrebbe discutere), web archives, progetti di net art (anche di questo si potrebbe a lungo discutere)…
De-localizzazione di esperienze radicate nella tradizione e nel luogo. Siamo multimediali e globali, ma siamo – per ora – in un luogo alla volta.
Tema ricco di ispirazione, purchè non ci si lasci confondere dalle parole, o dall'accento sulla tecnologia…vero è che fin dal suo anno di nascita (il 1974) e sulla scia del suo massimo promotore, la Internarional Computer Music Association, la conferenza ha posto l'accento sulla relazione tra scienza, tecnologia e musica. Però, non dimenticatelo, quel che ci chiedono sono opere sonore: installazioni, composizioni e performance. Quindi, fatevi sotto.
Si accettano anche papers e – udite udite – gli ospiti nord irlandesi mettono a disposizione un intero ensemble di musica tradizionale che unisce esecutori specializzati nel repertorio popolare e in quello contemporaneo. Tanto per gettare altra carne sul fuoco
Dato che i dettagli sono molti, vi consiglio l'esplorazione del sito. Unico consiglio: affrettatevi, purtroppo la deadline è vicinissima….25 gennaio.

Luogo della conferenza, il giovane ma molto attivo Sonic Art Research Center, tra le altre cose inaugurato dal Maestro Stockhausen (che ricevette la laurea ad honorem) nel 2004.
Che altro aggiungere, approfondiremo la conoscenza del SARC in un altro post…
Sara Lenzi is Director of Marketing at Sonoport. With more than a decade of experience in sound design and audio branding consultancy, she writes about all the multifaceted aspects of sound in communication. She is an international lecturer and founder of Lorelei Sound Strategies, the first sound branding boutique studio in Asia. Sara has a Master Degree in Philosophy from the University of Bologna and she is starting her PhD at the University of Bilbao, Spain. She lives in Singapore, where she spends her free time in tireless exploration of local food stalls and vintage shops, sipping cocktails in the tropical humidity and diving with giant turtles in the South China Sea.
Latest posts by Sara Lenzi (see all)