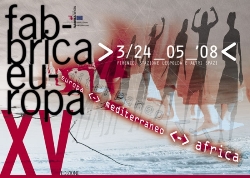 Gli amici di Radio Papesse ci segnalano una interessante iniziativa alla quale è legata una call for works che sicuramente stuzzicherà   i nostri lettori…
Dal 3 al 24 maggio si terrà   l'edizione 2008 del Festival Fabbrica Europa.
Negli spazi della recuperata Stazione Leopolda di Firenze si alterneranno progetti di teatro, danza e musica. Tornerò sull'argomento.
Oggi vi voglio segnalare lo spazio CityMix. Progetto di Fabbrica Europa, è il momento dedicato alle città   all'avanguardia nelle sonorità   e nei progetti elettronici, o perchè no elettroniche per definizione e nell'immaginario collettivo. Ospiti dell'edizione 2008 sono infatti Londra, Colonia, Rotterdam, Amsterdam e…Firenze.
Radio Papesse partecipa a CityMix con il progetto URBANsoundWORKS: soundworks dedicati alle voci del lavoro nelle città  – e in particolare nelle città   ospiti. Voci del lavoro che negli anni sono radicalmente cambiate…dal rumore futurista dell'industria pesante, al noise digitale del terziario avanzato…a voi interpretare o rappresentare il suono della città   che lavora.
Sono invitati a partecipare Рdepositando le opere nella Dropbox di Radio Papesse Рmusicisti, radio-artisti, compositori e via dicendo. Nessun limite di genere, di durata o di lingua ̬ posto. I brani vanno caricati in formato Mp3 ed entro il 25 aprile.
I lavori selezionati saranno presentati nello spazio CityMix prima dei concerti previsti, e trasmessi da Radio Papesse nei cui archivi rimarranno per consultazione e ascolto.
Sara Lenzi is Director of Marketing at Sonoport. With more than a decade of experience in sound design and audio branding consultancy, she writes about all the multifaceted aspects of sound in communication. She is an international lecturer and founder of Lorelei Sound Strategies, the first sound branding boutique studio in Asia. Sara has a Master Degree in Philosophy from the University of Bologna and she is starting her PhD at the University of Bilbao, Spain. She lives in Singapore, where she spends her free time in tireless exploration of local food stalls and vintage shops, sipping cocktails in the tropical humidity and diving with giant turtles in the South China Sea.
Latest posts by Sara Lenzi (see all)