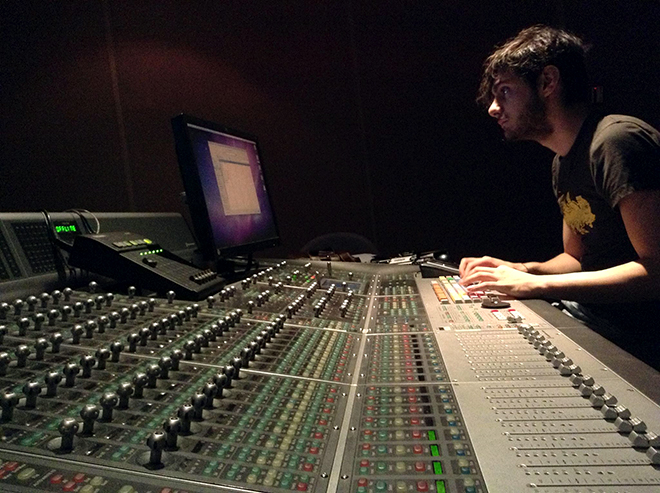 This post is part of a series called One Year in Sound by sound designer Carlo Ascrizzi.
Dear Term 5, I need some sleep!!! This is what Term 5 is all about… managing your time as best as you can dealing with huge assignments. It is about working late at night (or morning I should say), jumping from the theatre to the mix labs and trying to get the best from the time you have, also learning to switch between multiple projects.
The main thing during the next two months is obviously Mixing: you have access to the theatre and finally can put your hands on the spaceship Avid D-Control ES! Bang! You will have a few chances to practice, learn and feel comfortable using the console.
Now that your are the re-recording mixer in many occasions during this term, you will have a complete and clear understanding of what is coming before the final stage. So all the production and post-production process, everything you learnt so far, it will come back to your mind with a more conscious point of view.
You will have heavy pressure on you sometimes because you are going to deal with clients, set in stone deadlines and big workload for all the term long. Also because, as Mixer, you work in the final stage before the product is out of the door…
The Term starts with dense classes about how to set up and run the theatre system, and using the Icon, a lot of technical, theoretical and practical action about mixing in surround. There are so many informations in these classes that maybe is a good idea to bring your recorder!
Soon you will have the One On One Mixing session class. So just you and your teammate will share the console for the first time and for the all day, touching buttons and moving faders of the spaceship :)…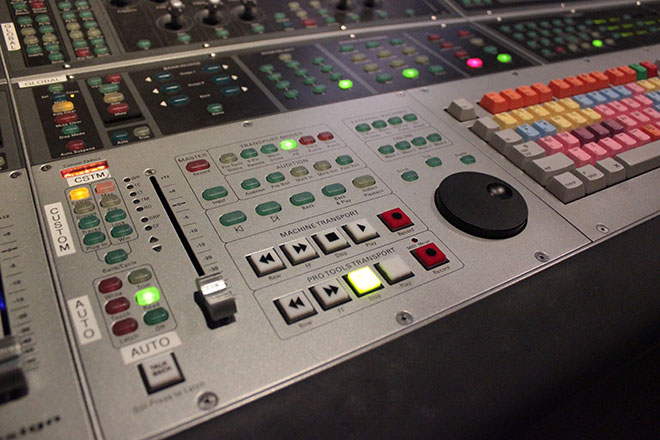 Ready for the first assignment? Here we are. You are asked to mix a 90 minutes movie in about 3 weeks, but while practicing in the theatre, attending busy classes and working for other huge assignments (Eh?)…
You have several deliveries for this project. You should mix and then conform the mix to the EDL sheet, and also record your mix on a tape. So prepare yourself for long nights in the Mix labs….
Building your Mix Templates for the upcoming mixes this term is your next assignment. You are basically asked to create two templates for the theater, one for the SFX system and one for the Dialogues and Music system. Â You are going to use them when the time for the Film Collaboration Project will come again.
Enough? No, remember that after all that messing around on the board, Â you will have a practical test about the theatre system and a theoretical test about all the mixing stuff!
Freelance sound design and music artist Carlo Ascrizzi creates original sonic contents for film, animations, multimedia and beyond. From brand commissions to experimental collaborations, his work has reached international multimedia arts festivals, film award nominations and digital arts magazines. An all-round creative, tireless traveller, Carlo is also the author of SounDesign's beloved series One Year In Sound.
Latest posts by Carlo Ascrizzi (see all)