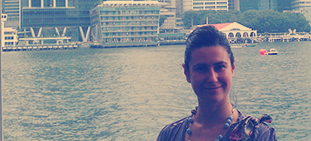 Our co-founder Sara Lenzi is attending the NTU/ADM Symposium on Sound and Interactivity at Singapore from 14 to 16 November 2013, to present Foodfrequency: a food and sound crossmodal immersive experience, a research paper we wrote to report the work behind the project Foodfrequency.
The program of the symposium is very interesting and includes keynotes, concerts and performances.
Thursday 14 November: SI13 Concert: Sound, Video, Interaction, Game…
Roger T. Dean – #1: Serial Collaborations 2 (live audio)
Diemo Schwarz – #2: Playing the Sound Space (live audio)
Dean & Schwarz – #3: Duo (live audio)
Stefano Fasciani – One at a Time by Voice (live audio)
Renick Bell – Live Coding Improvisation (live audiovisuals)
Luis Hernandez-Galvà n – …and everything he touched, was turned into Gold… (game as performance)
Steve Dixon & Joyce Beetuan Koh – The Fire Sermon (part 3 from The Waste Land) (multimedia theatre)
Friday 15 November
Vibeke Sorensen – Welcome address by ADM Chair
PerMagnus Lindborg – Opening notes by Symposium Chair
Roger T. Dean – Interactive Sound: Generative approaches from Computation and Cognition
Diemo Schwarz – Interacting with a Corpus of Sounds
Joyce Beetuan Koh & Steve Dixon – Integrating live performance, poetry, sound, and video in a multimedia theatre production of T.S. Eliot's The Waste Land (1922)
Renick Bell – Considering Interaction in Live Coding through a Pragmatic Aesthetic Theory
Stefano Fasciani & Lonce Wyse – One at a Time by Voice: Performing with the Voice-Controlled Interface for Digital Musical Instruments
Saturday 16 November
Jingyin He, Jordan Hochenbaum & Ajay Kapur – V I E: an automata sequencer
Rachel Chen Siew Yoong & PerMagnus Lindborg – Why call them video games? Investigating the Relative Importance of Audio and Video in Computer Games
Candice Ng – Playing The Archive: Transforming Cross-Disciplinary Research Through Visual and Sonic Immersion
Kameron Christopher, Jingyin He, Ajay Kapur & Dale Carnegie – Interactive sound synthesis mediated through computer networks
Michael Spicer – An Agent Based Performance System
Eddy Chong, Ding Qin, Zhenyu Yu & Ruitao Jia – Symbolic Representation of Tonal Progressions for Rule-based Evaluation
Simon Lui – Defining the dominance axis of the 3-D emotional model for expressive human audio emotion
Mriganka Mdhukaillya & Siddhant Yadav – Interactive Interior Sound Design
Sara Lenzi & Gianpaolo D'Amico – Foodfrequency: a food and sound cross-modal immersive experience.
PerMagnus Lindborg – Closing notes
Gianpaolo D'Amico is an independent creative technologist for digital media. He is the founder of sounDesign and a music obsessed since he was 0 years old.
Latest posts by Gianpaolo D'Amico (see all)