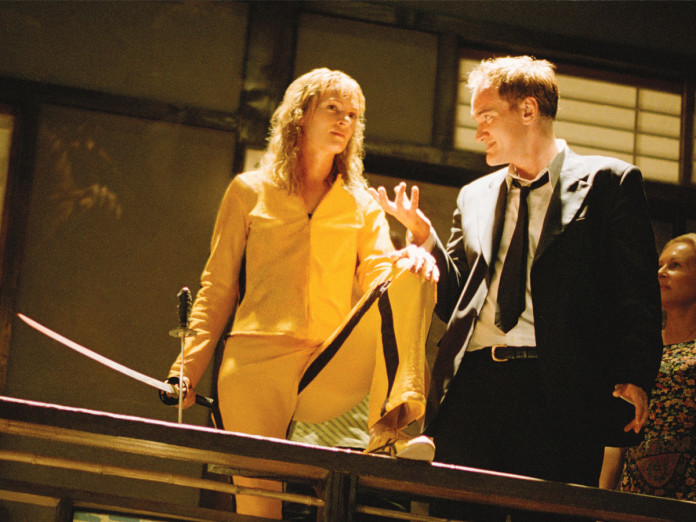 An amazing mashup video made of  some of the most memorable Quentin Tarantino's movies shows how much Sound is part of a well-defined strategy in the director works.
Do you remember Uma Thurman's sword cutting everything (and everybody) in Kill Bill volume 1 or 2? The out of control gun shooting by Jamie Foxx in Django Unchained? John Travolta giving Uma the shot of adrenaline to the heart to save her from an overdose in Pulp Fiction?
Maybe those images are still impressed in your brain because of the hard work on sound design which Quentin Tarantino and his sound team made in all these great movies.
Film editor Jacob T. Swinney highlighted this love for Sound in Hearing Tarantino, a great supercut reporting some of the most unique scenes in the films of Quentin Tarantino where sound and images convey an effective message and then a unique emotion to the audience. This video is also loads of fun, so I am sure you are going to watch it more than one time.
As you can see & listen from these scenes, Tarantino is not a fan of the big fat tech VRRROOOOM sound effect, but he plays with sound in a subtle fashion, always searching for a tight connection of diverse elements of the scene. Sometimes sounds are really quick, because the clip is really quick, and obviously this is a strategy to give you a punch in your face. Surely a turning point for the sound design of Tarantino was the Kill Bill series, where he really had the chance to experiment with audio thanks to the unconventional directing of the movie itself.
Kudos to the film editor, who made an intelligent montage, inserting similar sounds in the same part of the sequence, just adding that special touch we need in our mind to turn a list of sounds in something musical, something very close to the most effective earworm.
Films used in the video are the following ones:
Reservoir Dogs (1992)
Pulp Fiction (1994)
Kill Bill: Vol. 1 (2003)
Kill Bill: Vol. 2 (2004)
Death Proof (2007)
Inglourious Basterds (2009)
Django Unchained (2012)
[Image credits by Lucio Virzi]
Gianpaolo D'Amico is an independent creative technologist for digital media. He is the founder of sounDesign and a music obsessed since he was 0 years old.
Latest posts by Gianpaolo D'Amico (see all)