Fashion-forward company launched a Kickstarter campaign to promote the first wearable cuff with bluetooth wireless headphones. Are we living the years where fashionista wearables will revolutionise tech gadgets for music?
Intense competition in the tech industry has revealed just how significant it is to stay relevant in the ever so changing technological world, amongst the fashion-forward and tech savvy consumers. Since the last decade, the headphones market has really exploded. However, buying the latest portable music players won't necessarily give you the best user experience and sound quality without a decent pair of in-ear headphones and with wireless connections being compatible on almost all portable music gadgets and sound devices, sooner or later wireless earphones will be the next big thing in the audio product line.
Whether you're using your in-ear headphones while exercising at the gym, commuting to work or simply hanging out in your own leisure, regardless of the situation and your lifestyle, there are moments when wires can get your lifestyle in a tangle. Which is why cutting the cord to eliminate the awkward wires and using wireless in-ear headphones instead can make your lifestyle and daily routine far more comfortable in your own convenience. This is why the fashion and digital industry have become so dependent on the modern technology around us, as wearable gadgets and accessories are transforming the ways in which we want to experience our sense of feel, sound and look.
Headquartered in the Bay Area of San Francisco, Ashley Chloe is a fashion-forward company which aims to cater for those who desire digital accessories that are specifically designed to be wearable to express the modern lifestyles of the tech-savvy consumer. The company aspires to connect the worlds of high fashion and functional appearance with its aesthetically pleasant accessories for iOS and Android gadgets to produce wearable and smart devices that effortlessly connect performance with style and convenience. Helix is their flagship wearable product, which is the first of its kind that enables you to store your headphones on your wrist when you're finished using them so they're only an arm's length away.
Since the release of the Apple Watch earlier this year in April, with its mission to revolutionise wearable gadgets, it's inevitable that in the near future we will all have some sort of device attached to our wrists. With the direction technology is headed, there is serious competition in the wearable gadgets arena as new innovative wearables like Google Glass, Apple Watch, Fitbit and Beats by Dre all have their own unique selling points (USPs), giving each of them a competitive edge over their rivalries. They all have one thing in common and that is their sense of fashion-forward thinking as style and tech go hand-in-hand for wearables.
What makes Helix so different compared to other wearables and wireless headphones is that it has a 50:50 ratio of acting as 2-in-1 wearable device: wireless in-ear headphones and a stylish wristband making it the World's First Wearable Cuff with Stereo Bluetooth Headphones.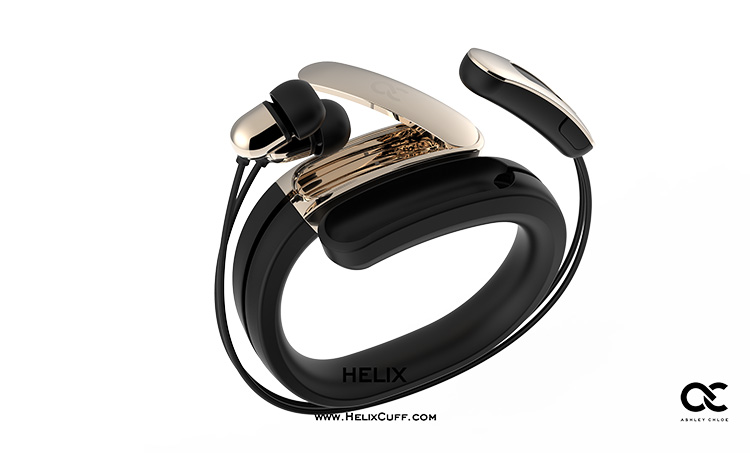 It's too early to speculate whether Ashley Chloe will be the most fashionable and trend setting pair of headphones out in the market but in terms of price, hype-factor, technical level, sound quality, functionality and durability, it is possible that other brands could overcome them.
HELIX WAS CREATED KNOWING THAT THEÂ HUMAN WRIST IS VALUABLE REAL ESTATE.
Helix supports this competitive possibility by ensuring that fashion and tech are always at hand in a sleek design for those who are always on and always in style. Ashley Chloe wanted to create something unique for music lovers, the tech savvy and smartphone experts. They hope to deliver an incredible sound experience in a wearable device that makes carrying headphones not only convenient but fashionable, and the discreet minuscule slot inside the Helix cuff achieves just that as the Helix is a wearable device that complements your style and takes your tech to a whole new level.
Ashley Chloe states that the Helix was created in consideration of knowing that the human wrist is a valuable real estate. They knew the challenge would be to offer a lot of value in order to convince people to use a wearable product that is visible to them all the time. Something that would be a lot different from what you would carry in your pocket. The CEO says that they spent a lot of time concentrating on the quality of the materials used to create a design that would look sleek and stylish, but also feel comfortable and sophisticated in cleverly hiding its technological powers and functions.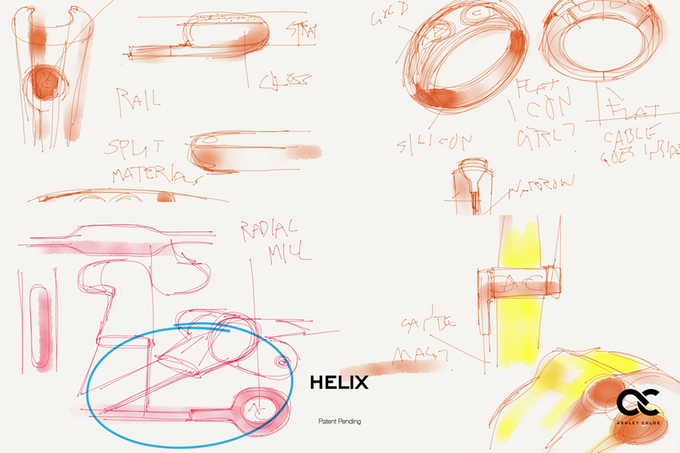 However, the million dollar question is, why would people want to buy such a wearable device and Angela Pan, the founder and CEO of Ashley Chloe answers that valuable question by asking: "What do you do with your headphones when they're not plugged into your device? Instead of keeping them in your pocket or purse, access them in a fashion-forward cuff for easy convenience as it can take minutes to unravel earphones and the knot of cords, but with helix, you'll plug in your headphones in just seconds". Essentially that is the main value of the Helix Cuff which gives their breakthrough product a competitive advantage over its competitors as it ensures you never have to go through the frustration and the unpleasant experience of finding yourself in an irritated mess of tangled and twisted in-ear headphone wires and cables.
Helix was designed by Mika Nenonen who was previously the Lead Industrial Designer at Nokia and Nest. The wearable in-ear headphones consist of high-fidelity speaker sound and a connecting cord that is designed to wrap around the stylish wrist cuff looping into a groove when the headset is not being used, ensuring there are no more wires interfering with the user experience. The Helix Earbuds are designed to make the in-ear headphones experience look natural when they are in use and measured at a length that allows them to be short enough to wear on your wrist and long enough to sit on your ears.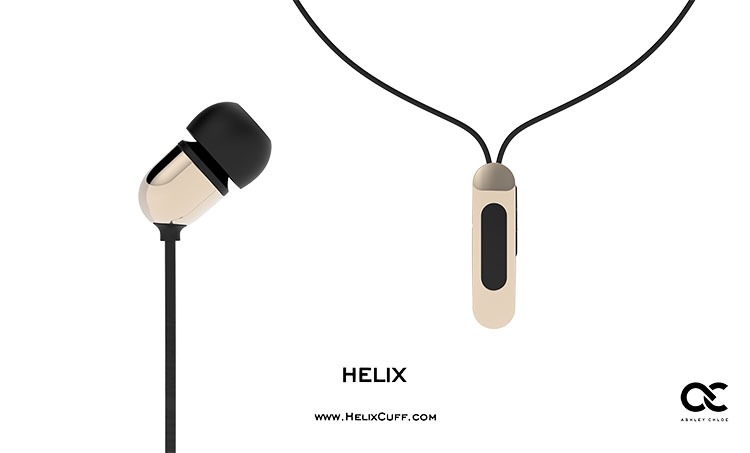 Helix is Bluetooth enabled, which allows the stereo sound quality in-ear headphones to pair with an Apple or an Android smartphone and a control lights up through the center of the unit to signal that the Bluetooth is connected and your device is in sync. It provides a built-in microphone for track controls and while it is expected to play for up to three hours, it has a standby battery life of up to 200 hours with charging time only less than an hour. The materials involved in creating the body and structure of the cuff consist of fluoroelastomer, a fluorocarbon-based synthetic rubber, the same material used for the Apple watch, while anodized aluminium was used to construct the cuff compartment, control unit and in the in-ear headphones.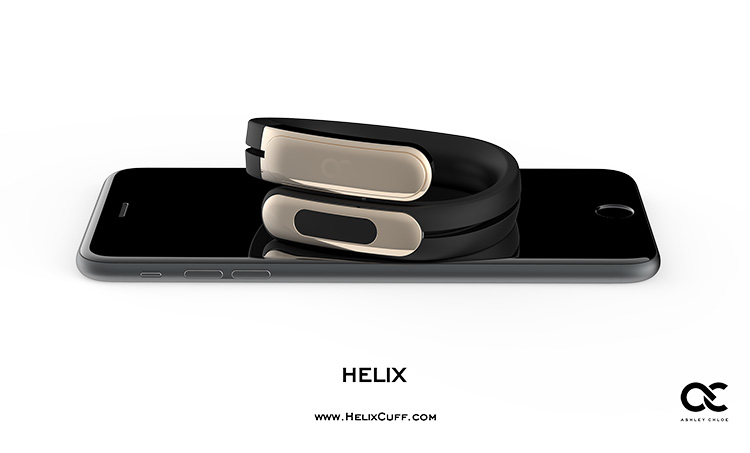 The Helix Cuff is currently available in three unisex colour schemes: white, black and bright red with the metal embellishments in 18k plated-gold, champagne gold and silver aluminium which are carefully placed to represent the storage area for the connecting cord of the wireless in-ear headphones.
Ashley Cole is currently raising funds on their Kickstarter campaign by surpassing their funding goal of $100,000. Currently, Helix is exclusively available through Kickstarter as the company has already accumulated a huge following of backers supporting this project creating a personal connection with Kickstarter's progressive community. Kickstarter supporters now have the exclusive right to pre-order the Classic Helix Cuff at a discounted price of $149 or $269 for the Deluxe Helix Cuff 18k Gold Edition. There is a small number of classic Helix Cuffs available for an early bird pledge of $99. Once the Kickstarter campaign closes on 17th September 2015, Helix will be sold through the Ashley Chloe website. With so many online outlets available on hand, this has certainly changed the way in which fashionable products are advertised to consumers, as marketing and branding of wearable gadgets is becoming increasingly essential in determining the success or failure of a new innovative product line.
What do you think? Will in-ear headphones on wrist be the next big trend to progressively make wire integrated earphones permanently in extinct? Leave a comment below.
Freelance creative designer and a digital media enthusiast from Dublin, Ireland. Farshad is a qualified professional with an MSc in Marketing Communications (2012) from MMU Business School in Manchester and a BSc in Business & Management (2011) from DIT Business School in Dublin. While having an artistic personality, he is highly passionate about creative advertising, digital marketing and graphic design as he aspires to incorporate his creative skills into his line of work to build an exciting yet challenging career in the creative and digital sectors.
Latest posts by Farshad Qasim (see all)