Russian audio visual artist and programmer Alexander NightRadio Zolotov recently launched Quantum VJ, a glitch-style 8-bit audio visualizer with a display of 128×64 monochrome OLED and a 20 hours duration battery, which provides the option to be wearable on the body.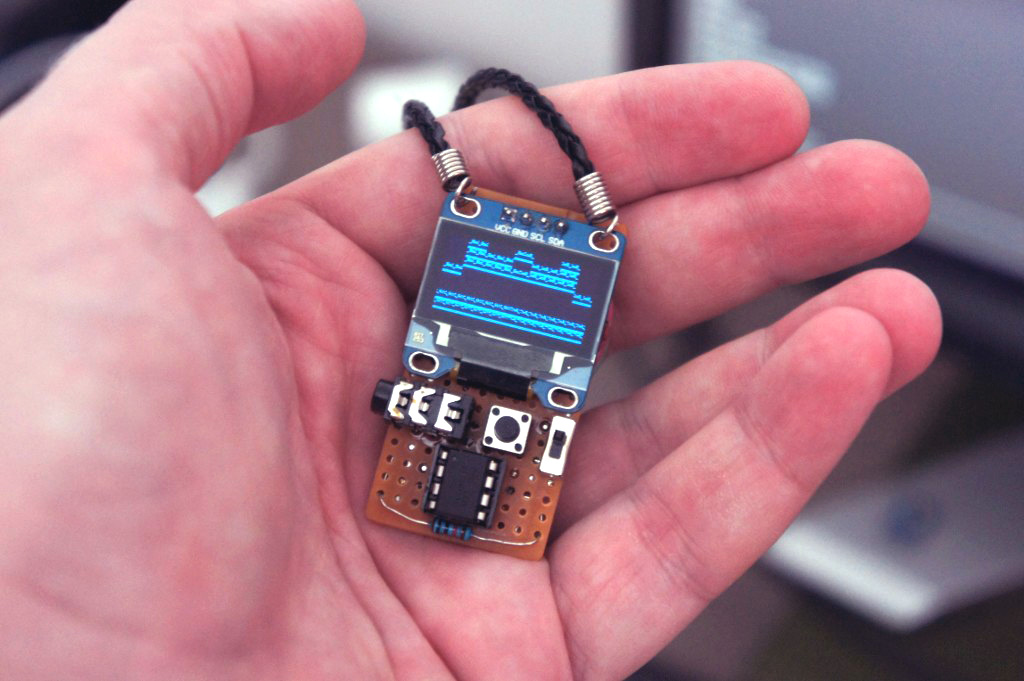 This interesting device can connect to each kind of audio sources thanks to a standard 3.5mm jack plug. In addition it is also able to visualize some electromagnetic interference when the input is off. You can watch the video below to figure out what is happening when no audio source is playing in the device.
The dimension of Quantum VJ makes it an interesting solution to create audio visual spots which can be placed directly on the body of the performer. Could you imagine a DJ full of such devices connected to the same audio source, or maybe to many different ones? And this could last for 20 hours of DJ or Vj set, more or less.
In the field of wearables technology we can depict some interesting further ways to develop this project, such as building special garments reacting to external audio stimuli, which can be used during a fashion show or an installation. There are many companies doing wearables with this goal (example: Cute Circuit), but a more experimental direction coming not from designers, but from programmers and audio visual artists can bring to more interesting outputs.
Currently Quantum VJ is in a prototype stage and can work in six different modes. Alexander is planning to release a new and improved (more colours and features) version with a defined price too.
If you want to support the development of this cool wearable and musical project with a donation or be informed when the final version is ready you can visit Quantum VJ official page.
[via 
The Creators Project
]
Gianpaolo D'Amico is an independent creative technologist for digital media. He is the founder of sounDesign and a music obsessed since he was 0 years old.
Latest posts by Gianpaolo D'Amico (see all)